As we continue to expand our jumping castle product range, our aim is to provide as much variety to as many party goers and events and possible. From children to adults to corporations, church and schools, we want our bouncy castles, inflatables and fun food products to be a hit for everyone.
Our two latest inflatable games match that aim perfectly. Introducing the hilarious Velcro Sticky Wall and the extremely challenging Bungee Run!
What is the Bungee Run?
A whopping 10 metre long dual lane inflatable, a middle wall separates two racers as they sprint down the lane to try and stick a velcro block the furthest down the track.
The catch? Both players are harnessed in and attached to bungee cord so as soon as that rope goes tight….WOOSH! Back you fly and tumble!​
This is a deceptively difficult game and hilarious fun to watch people sprint down the track thinking they've done it easy…only to somersault and roll backwards once the length of bungee runs out!​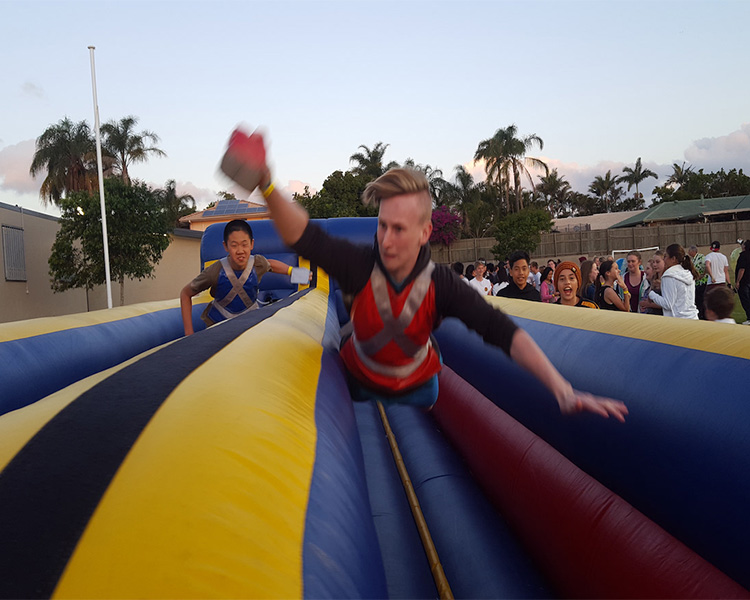 What is the Velcro Sticky Fly Wall?
A rather odd name and is also known as "inflatable fly wall", "sticky wall" or "fly wall".
This inflatable features a super high wall covered in velcro and a jumping/bouncing area at the front. What do you do with it? Pack on some velcro body suits of course and then make your way toward the wall!
Jump, jump and bounce! The bouncing springboard lets you soar into the air towards the sticky wall. Play in various ways – just for fun, highest up the wall, somersaults & tricks and more.​ This is hilarious fun but requires a degree of skill as well:)
Jump the wrong way and you might not stick. Jump too high and you won't be able to get down!​ The Sticky flywall hire package comes with 2 adult suits as well as 2 smaller sized suits for children.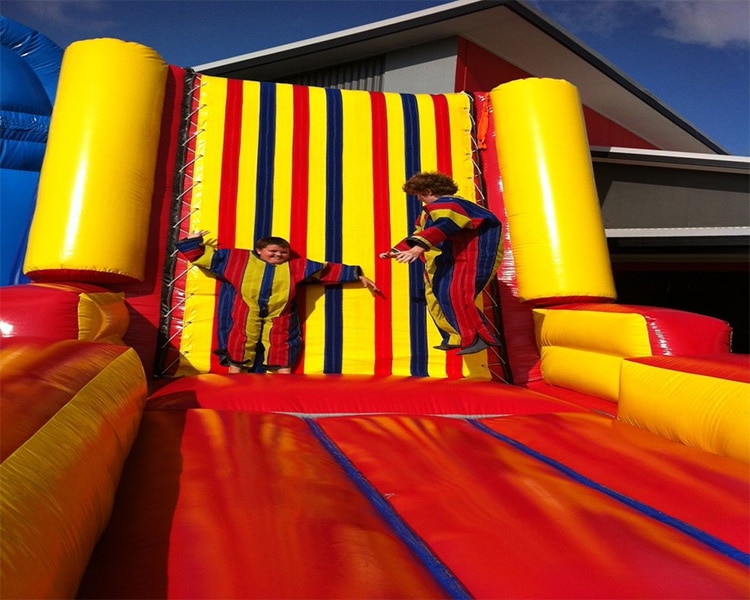 Who should hire the Fly Wall and Bungee Run?
These two popular inflatables are great for EVERYONE. And we mean that. Both the sticky wall and dual lane bungee run is recommended for ages 3 and up and any event where you want some interaction and a laugh!
If you're holding a large event, don't forget to ask us about our package deals and add some of our other great jumping castles or inflatables.
Sports clubs
Church / Youth day events
School fetes
Family fun days
Corporate fun days