Hosting a fundraising event is a great way to support a local cause or community issue. The question is – what types of things are going to help you raise the most amount of money for your cause?
The ultimate goal of any fundraiser or community event is to raise the most amount of money possible. Hiring rides, jumping castles and fun food machines is a great way to both entertain the crowds and raise the most amount of profit for your cause.
Why would hiring a jumping castle help?
Jumping castles, bouncy castles or inflatable games are BIG draw cards for children and therefore families. The more people you can attract, the more money you can raise. Hiring a jumping castle for your fundraiser is both a fantastic promotional tool (advertise it on your flyers, social media or wherever your telling people about your event) AND visual eye-catcher on the day.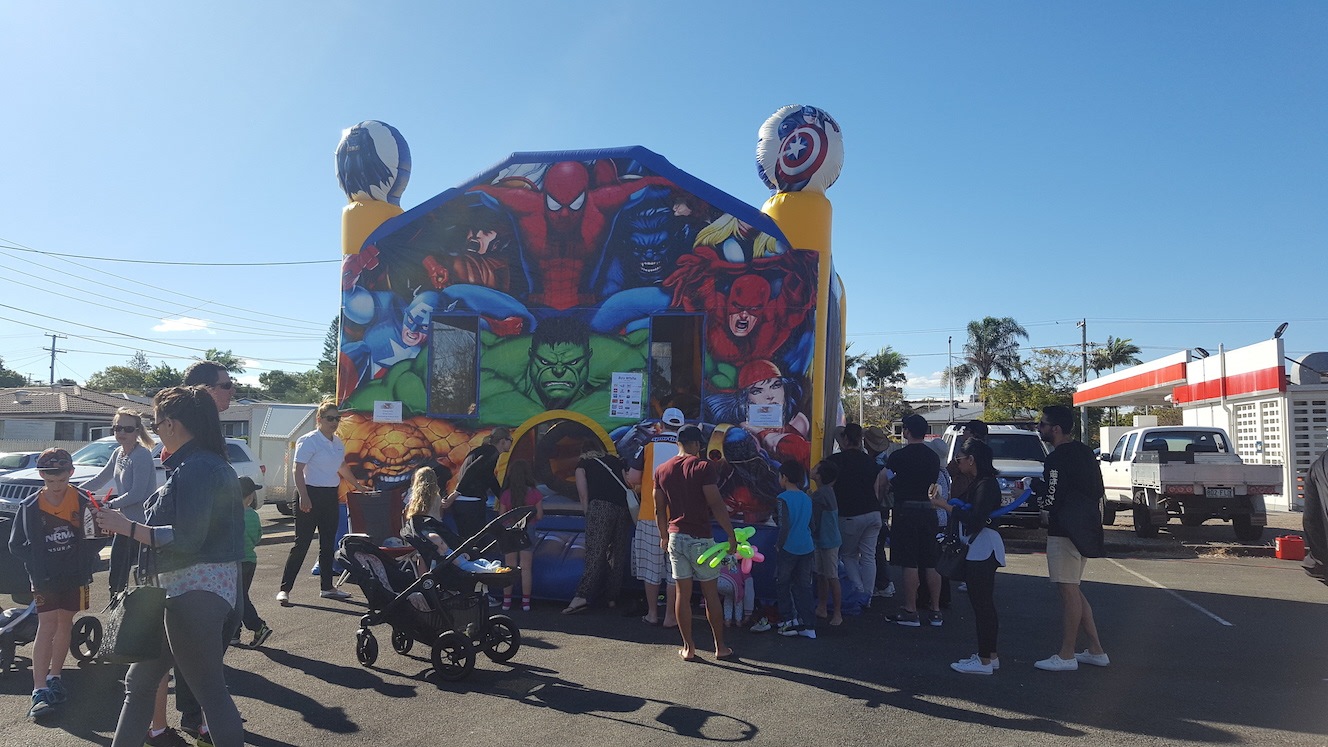 There's 2 ways to profit from hiring jumping castles at your next fundraiser:
Sell entry tickets to the event to cover the costs of hiring the bouncy castle
Sell ride tickets for the actual use of any inflatables, games, jumping castles or rides you have on site
As an example, sell a pack of 10 ride tickets for $30.
1 ride tickets gives the child either a fixed time on the game, or a fixed number of attempts. Just 100 ticket sales raises you $3000! Well and truly covering the cost of jumping castle hire (even with supervisors)
Selling fun foods for profit $$
Now here's where you can really add some profits to your bottom line!
Everybody (and most importantly children), LOVE fairy floss, popcorn, snow cones and slushies! Hire packages for the concession equipment are extremely cheap and can work out as low as $0.50 cents per serve.
Sale prices average between $2.50 and $4.00 pending the event and quantity of people attending. Imagine raising 8x your cost and being able to give all that profit to your worthy cause!
CASE STUDY – MOVIE NIGHT FUNDRAISER
Movie night fundraisers are one of the most popular way schools and community organisations raise money. Brizzy Jumping Castles has been involved in a tonne of movie night fundraisers and they are always a success, raising valuable funds for a school project or community cause.
How do they do it? By selling the most wanted commodity at a movie – POPCORN! One of our most popular popcorn hire packages​ features 2 commercial grade popcorn makers with 300 servings of popcorn. Everything you need to make cinema quality popcorn including the kernals, oil, butter salt and bags is included and starts at only $275!
Now let's do the math:
​Cost per popcorn serving = $275 / 300 servings = 0.92centsSale price per popcorn serving = $3.00 eachTotal $$ made if all 300 servings are sold = $900
Profit raised for fundraising event = $900 (total sales) – $275 (cost of popcorn machine hire) = $625 !!
Not bad for a few hours of popcorn making and don't forget, there's the sale of the movie ticket, lollies, auctions and so much more you can throw in to raise funds!
Also note – the more servings you get (larger popcorn hire package)​, the cheaper your cost per serving!
Don't forget – Our fairy floss machines, snow cone machines and slushie machines all work on the same principle! Cost per serving is extremely cheap and sale prices are generally 3 – 10x costs!
Add a fun food operator for more profit!
Want to increase your profits even more or just don't have anyone to man the concession equipment? Hire one of our fun food operators to push out the maximum number of servings possible for your patrons!
Our trained and blue-carded team members are fairy floss fanatics, popcorn professionals and snow cone sizzlers (terrible humour – we know:)​
They know the fun food machines inside out and can keep your crowds under control, helping bring in more $$. Just add the option during checkout ("fully staffed").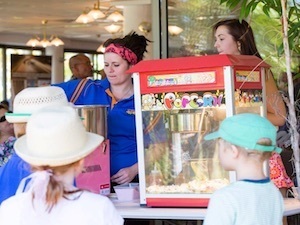 Our latest fundraising event
We assist plenty of charities and hire equipment to so many fundraisers but our latest community event was something special.
Brizzy Jumping Castles was one of many businesses to team up with Ray White Bracken Ridge who put on a HUGE Family Day Fundraiser for Kohan and Chet's Journey.
We supplied our Super Heroes 5-in-1 combo castle, fairy floss machine, snow cone machine and generators to help bring in the crowds and boy did it go well! The community got right behind the cause and enjoyed the activities all the way till sundown raising (at this point in time) over $9,000 !​
If you want to check out what Kohan and Chet's Journey is all about – click here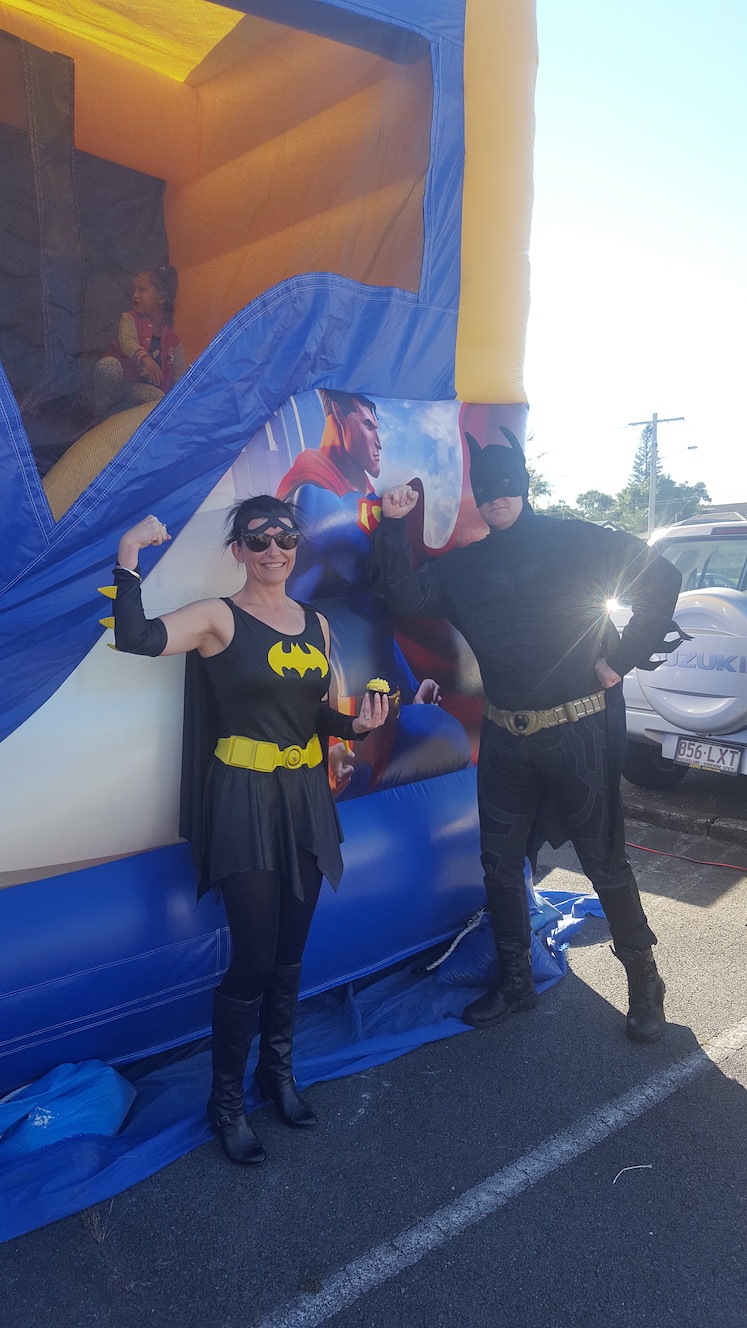 NEED HELP WITH YOUR NEXT FUNDRAISER?
Talk to us about some of our party hire packages here or create your own! Just call us on 3177 3316 so we can help you out!