State of Origin is one of the most monumental sporting events every year and Brizzy Jumping Castles had the privilege of being there with our inflatable dartboard set up right out the front of Suncorp Stadium!
A simple 3-lettered word explains it all. FUN!
Why was our inflatable dartboard at SOO ?
Triple M radio station wanted something eye-catching and fun to do for patrons at the Maroons Members Bar. Our giant 3mtr inflatable dartboard certainly caught attention and was the answer! Set up beside the Triple M stage, guests had a great time trying to out do each other with the game!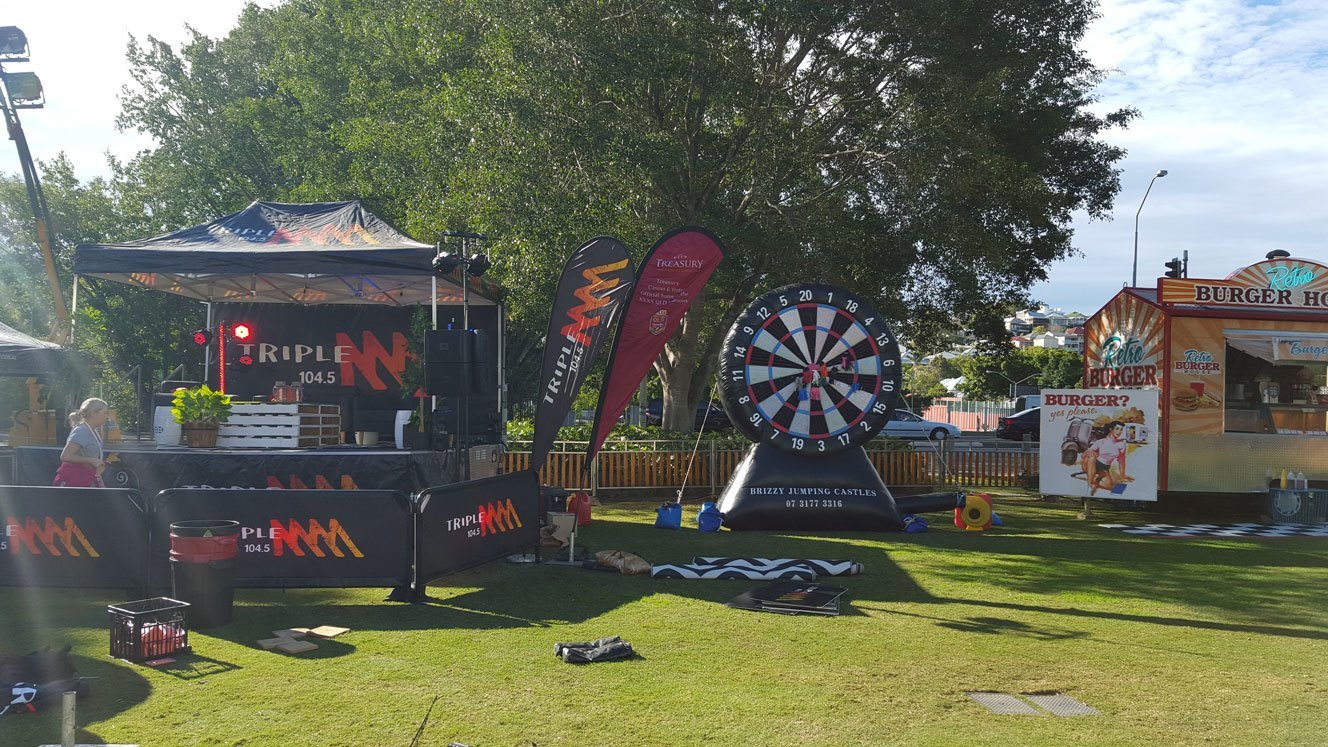 Our Giant dartboard beside the Triple M stage
Can you bounce on the giant dartboard?
The giant inflatable dartboard isn't for bouncing but we've recognised that patrons and businesses want more interaction out of inflatables and we're listening to the demand! Our huge inflatable darts game is versatile and great for various events. Why?
Our Giant Dartboard is great to hire because…
There's no age restriction
It's completely safe
It's interactive
You have a variety of options when selecting how to play (play a standard 1-on-1 match, knockout tournament, first to a certain number and so on)
It's easy and fun for everyone
It doesn't require a lot of area
How do I play inflatable darts?
Easy! Play by yourself for points, against an opponent or even form teams!
Simply divide up the velcro darts that come with the inflatable, set a throwing mark and away you go! Keep a scorecard if you're playing normal dart rules or just aim for the bullseye and see who can get it!
This inflatable game is great for team building, community events, bucks parties or just birthday parties!
Looking for other interactives?
STACKS MORE TO CHOOSE FROM