With the huge success of our last range of inflatables including obstacle courses and our dual slide, we're happy to announce our latest inflatables for hire coming soon – inflatable sports games!
Our inflatable sports game hire covers some of the most popular sports in Australia as well as products that are taking Europe and the USA by storm. Here's a quick run down on what's coming:
Inflatable Basketball Shootout
Our inflatable basketball shootout game features a 3-lane multi-coloured set up where 3 patrons can play against each other at once. Shoot for points from different lengths or shoot for maximum scores.
Just like our gladiator cage – you can set up the competition rules however you like:
Winner takes all after "x" amount of shots
Shoot from various lengths
Shoot backwards (over your head)
Shoot one handed
So many possibilities with this game and great fun whether you're a basketball fanatic or not!
The inflatable basketball shootout game is best suited for:
Family fun days
Markets
Community events
Sports carnivals
Corporate events
Promotions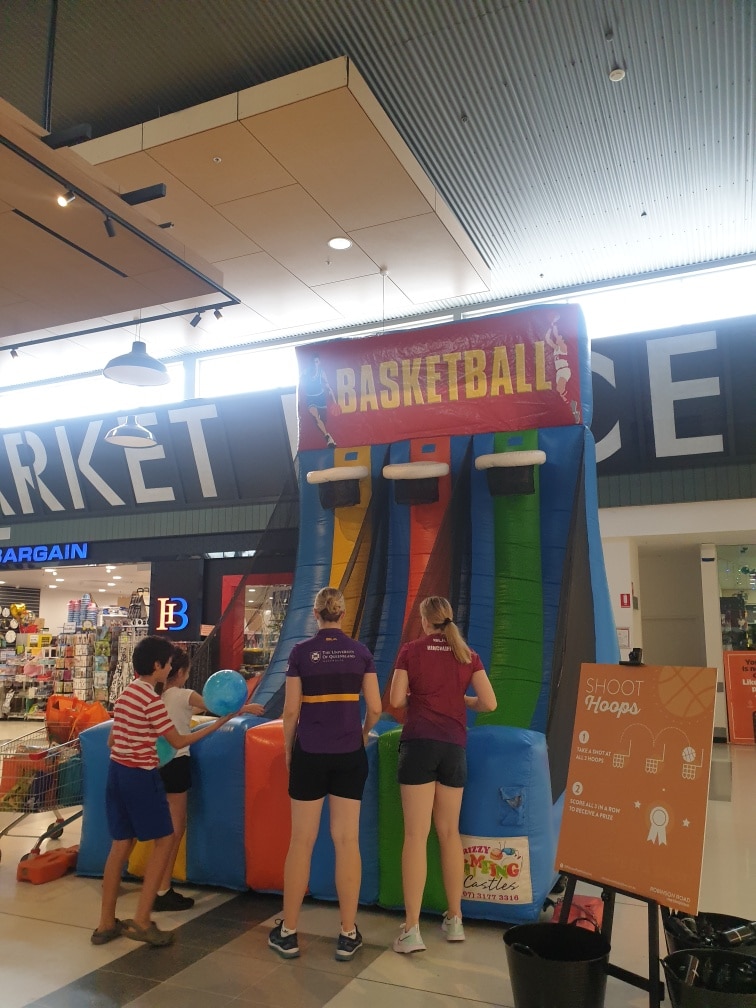 Inflatable Snookball (Foot Snooker)
The craziest and most popular game at the moment coming out of Europe – SNOOKBALL! We're the first to have Snookball for hire in Brisbane and we can't wait!
So what is "Snookball" ?
The sport was invented in France and combines soccer ("football" in Europe) and pool (billiards/snooker)!
Also known as "foot snooker", "snookpool" or "foot pool", the massive inflatable snooker table allows players to stand inside and attempt to sink the coloured balls into the pockets. The catch? Instead of using cues like regular pool/snooker, players use their feet and kick the balls into the pockets!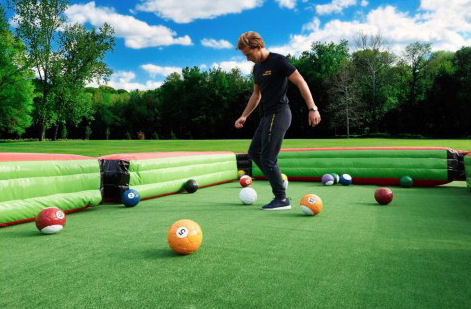 Snookball is won when:
A player or team wins when they pocket all of the balls from their group and finally the black ball. (same as regular pool).
Snookball is lost when:
The 8 ball is pocketed in the middle of the game
The 8 ball leaves the table (except at the break)
The white ball is pocketed or leaves the table in the same shot as the 8 ball is pocketed
Snookball fouls:
If a player commits any of the following fouls, the opponent will be provided a free shot:
Hitting the 8 ball or an opponent's ball first
If the white ball does not hit any balls
The Snookball rule:
A Snookball occurs when a player manages to pocket one of their balls by sending the cue ball OVER an opponent's ball using a "scoop" technique. When a Snookball is successful, the player who made the shot can take one of the balls that their opponent has already pocketed and put it back in play!
Whilst the above rules are taken from the "official" rulebook, Snookball hire is great because you can mix and match rules or the game type as you please. Here's a few examples
9-Ball – Pocket the 9-ball to win. To do this, use the white ball to hit the ball with the lowest number first
H.O.R.S.E – Sink a trick shot for your opponent to attempt to copy. If they fail, they get a letter
Single players or teams – mix it up
Inflatable Snookball is best suited for:
Family fun days
Weddings
Community events
Corporate events
Promotions
21st's, 18th's and other birthday parties
Soccer Darts / Soccer Dartboard / Foot Darts
Again, something completely unique and currently the biggest craze overseas! This one combines soccer with darts! Simple:)
Check it out in action here:
Play a points game like regular darts or mix and match to suit your own!
The giant soccer dartboard is best suited for:
Family fun days
Markets
Community events
Corporate events
Promotions
21st's, 18th's and other birthday parties
Inflatable Rugby Toss
Think you're a bit of a gun at rugby (any kind)? See how many points you can rack up with your passing skills!
Our inflatable rugby toss games has 4 various sized holes built in, each with a different number of points attributed to it. The smaller the hole you can get the ball through, the more points you score!​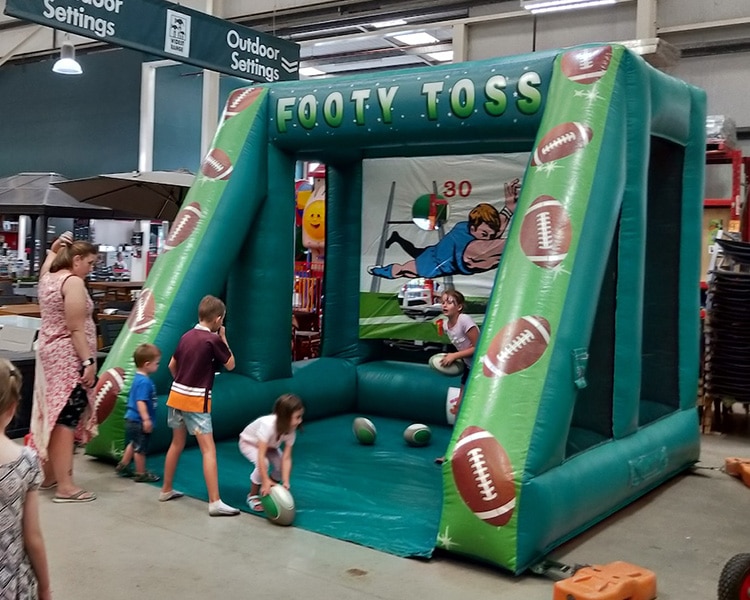 Inflatable footy toss hire is best suited for:
Family fun days
Markets
Community events
Corporate events
Promotions
Inflatable Penalty Shootout
Our penalty shootout game uses the same concept as our footy toss game.
Four various size holes with greater points attributed to smaller holes have players shooting for points. Winner is the player with the highest tally of points after "x" amount of shots.
Mix it up and have players shoot clockwise, anti-clockwise, in order of points or however you want!​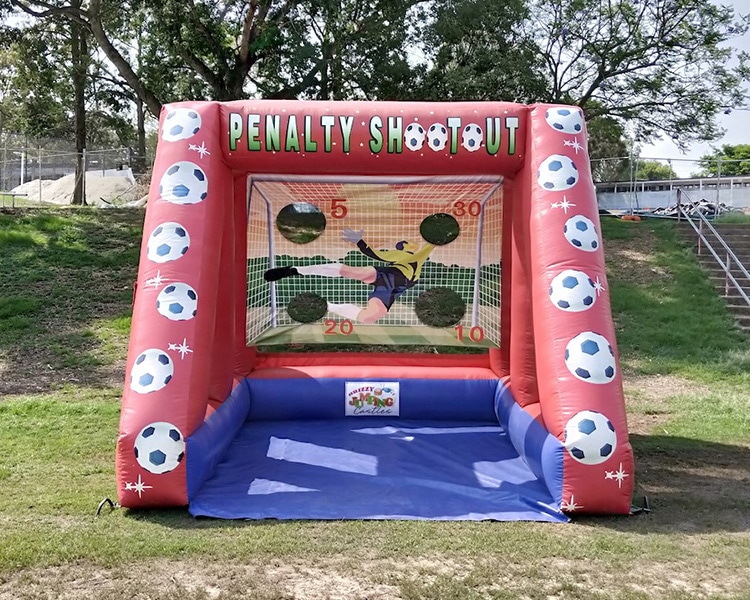 Inflatable penalty shootout hire is best suited for:
Family fun days
Markets
Community events
Corporate events
Promotions
For a full range of Inflatable Sports Games you can hire, click here