Adult jumping castle hire is one of our largest categories believe it or not and each year, we see just as many "big kids" hiring bouncy castles for parties as children.
Our adults jumping castle range has come a long way since we first started hiring bouncy castles. From a simple open bouncer – the "Disco Party Bouncer", we now have a huge range of adults bouncy castles and interactive games for hire at events including 18th's, 21st's, weddings, baby showers, formals and more.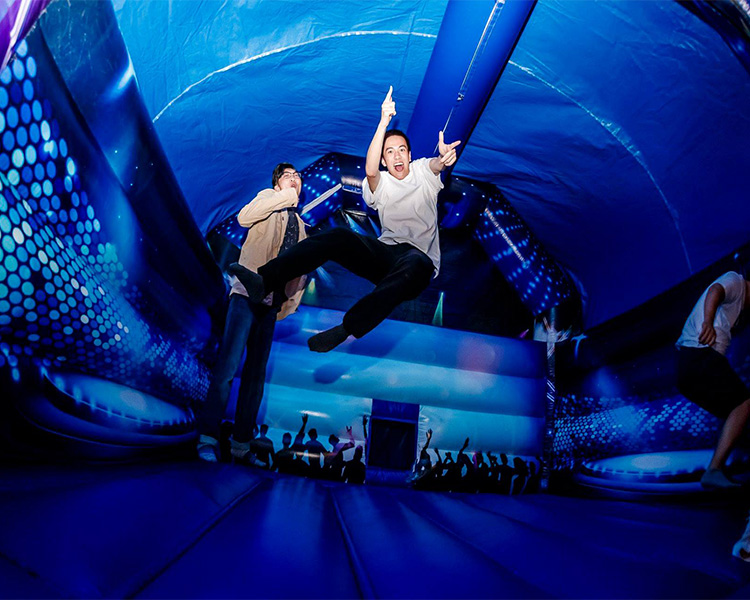 As parties become bigger and bigger, so to do the designs and options available to entertain guests. Take a look at some of our most popular adults jumping castles, games and sports inflatables available to hire from Brizzy Jumping Castles
Got an idea for a different type of inflatable game or bouncy castle? Seen something you love but haven't been able to find it for hire in Brisbane? Let us know and we'll add it to the tally of our most requested products!
Gladiator Duel – Jousting Match
One of our staple adults interactive games is the Gladiator Duel. Two fighters are pitted against each other in a test of both balance and strength. Now with two bold designs, our jousting cages are perfect to square off against your mates and/or partner!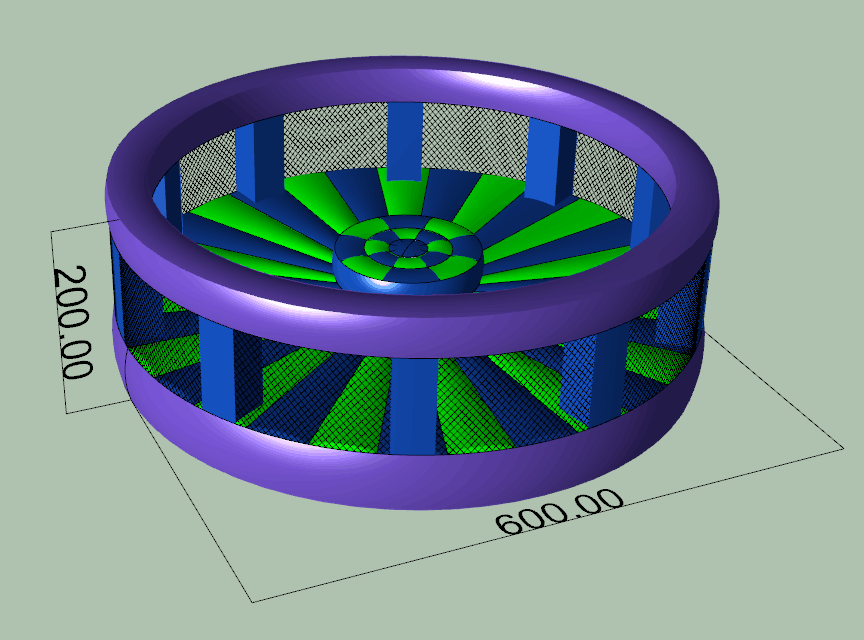 See more of the Gladiator Duel & Gladiator Duel 2 here…
Bungee Run – Two Lane
Feel as though you're the competitive type but don't want to get that rough with each other? Why not try a different type of 1-on-1 challenge with our humungous dual lane bungee run. Put on the harness, grab your velcro block and see who can run the furthest down the bungee lane before being snapped back by the bungee cord! That's right! Attached to each harness is a bungee rope, designed to stop you in your tracks…literally!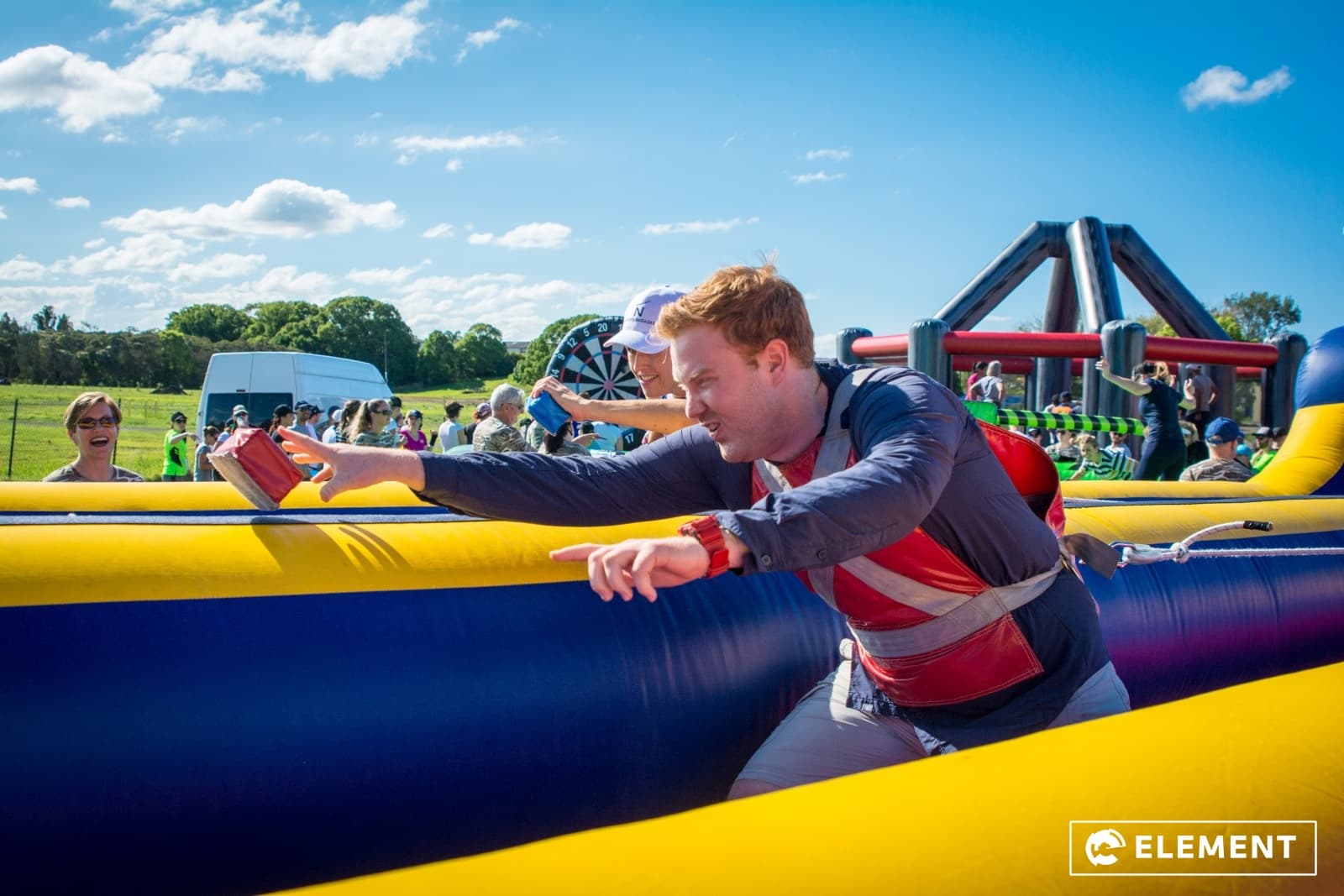 Check out our bungee run for hire here…
Inflatable Twister
The popular board game from back in the day is back but as with everything we do…it's massive! 5 metres x 5 metres lets plenty of people get in on the action and crawl, twist, stand and fall over each other.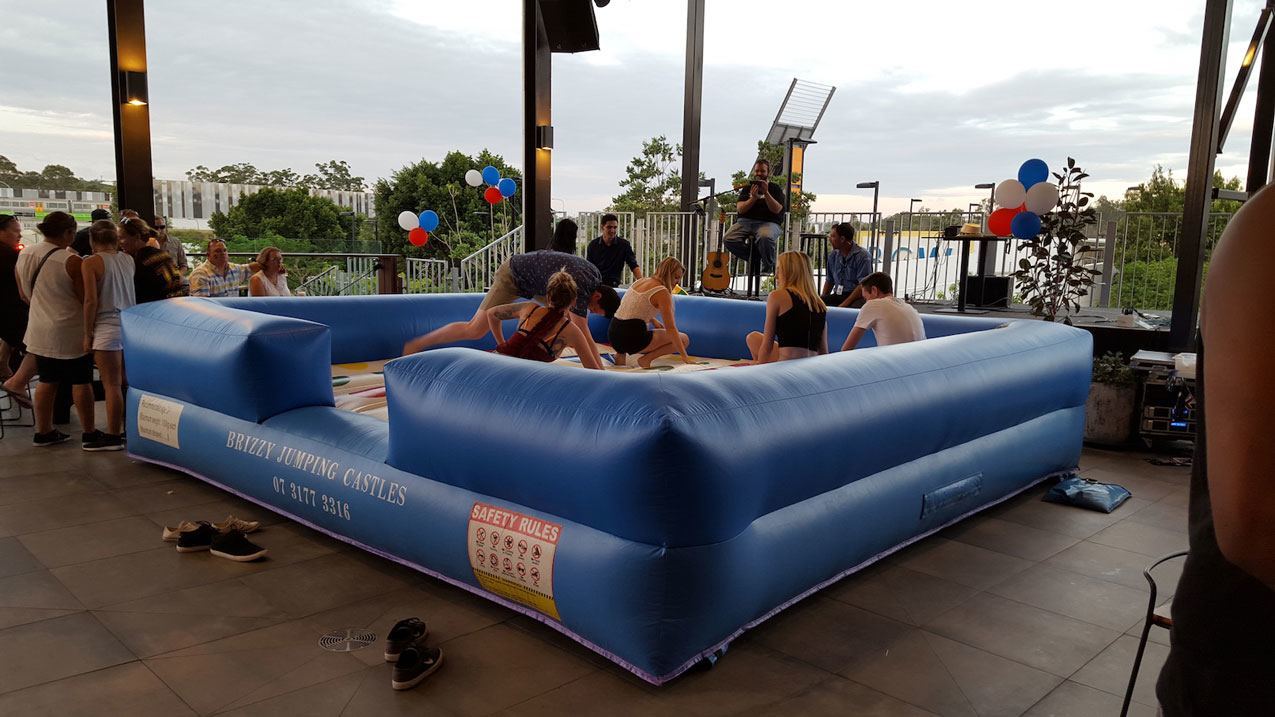 Hilarious fun for all ages but in particular the grown ups…hire inflatable twister here…
Adults Sumo Suits
One of the original "funny" party games…sumo suits have been around for ages and are still to date one of the funniest party games you can hire. Battle each other on the sumo mat or just run around being plain stupid…sumo suits are hilarious fun either way!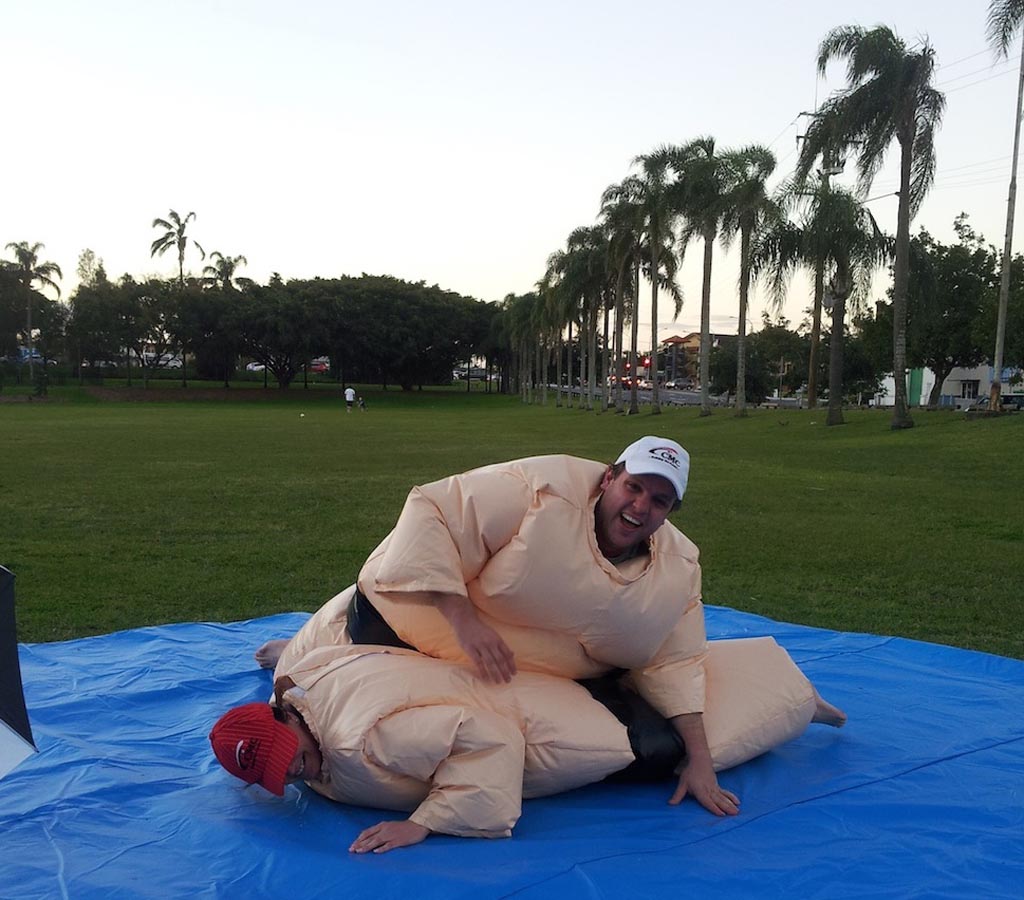 Take a look at the rest of the sumo suit pictures here…
The Inflatable Nightclub / Party Room
Not interested in challenging your patrons to bloody duels with the Gladiator Duel or professional boxing bouts with bouncy boxing?The inflatable nightclub and party room may be the solution for you! The massive 7 metre x 7 metre x 6 metre high inflatable enclosure features fully inflatable walls and creates a party atmosphere for you and your mates to party all night (or day!) The inflatable night club comes with a built-in bluetooth speaker, disco balls and laser lights to help get the party started. If you want to take it even further, you can spec out your party even more and add your own red carpet entrance, dance floor, slushie machines and more!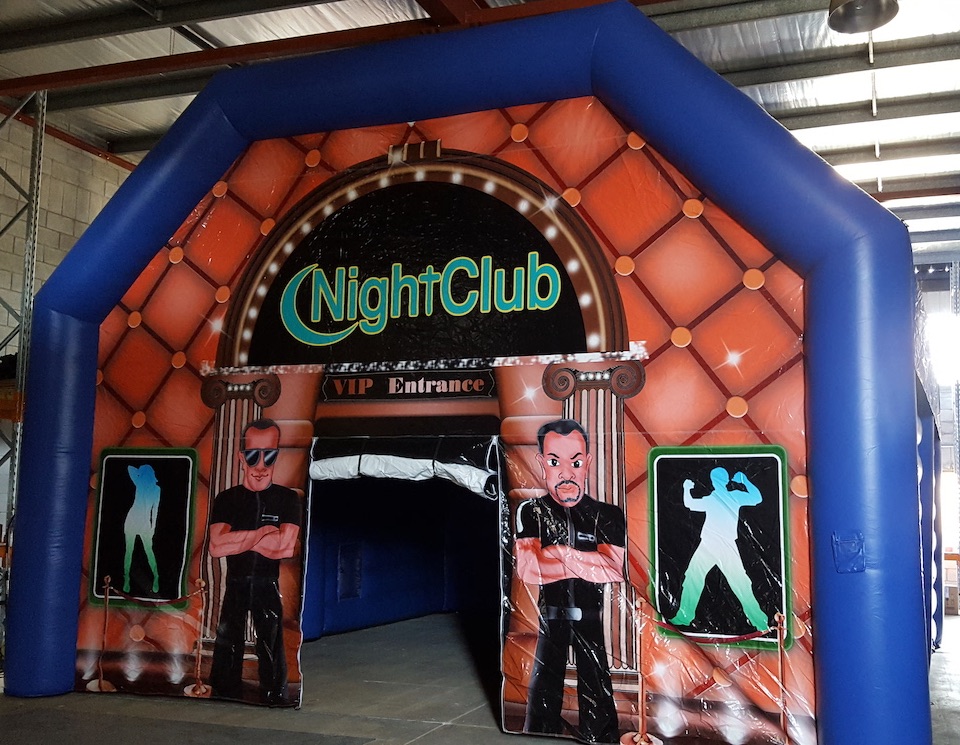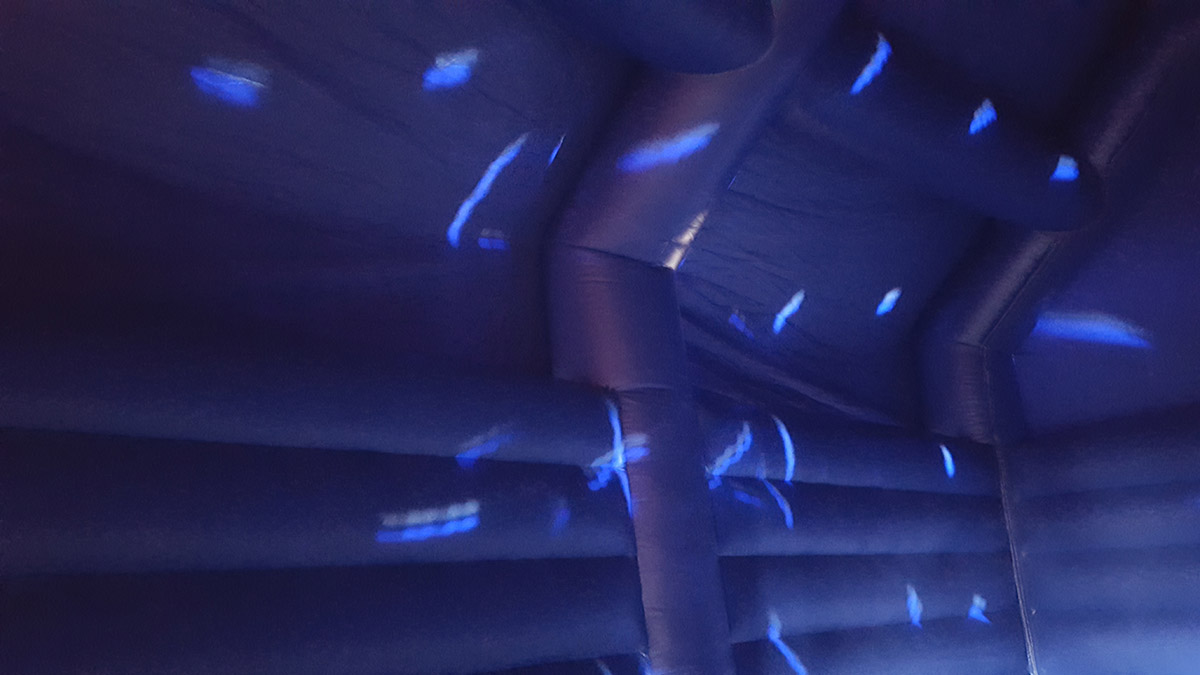 Check out the inflatable nightclub / party marquee packages available for hire here…