Tiffany chairs, also known as Chiavari chairs, are an incredibly popular choice for weddings and special occasions.
If you're thinking of decking out or adorning an event space or a wedding venue with Tiffany chairs, here's a useful guide to the history of this famous chair and some examples of events they can be used for.
Additionally, the range of options available in both colour and cushion type mean you really can match these to any type of function, formal or informal!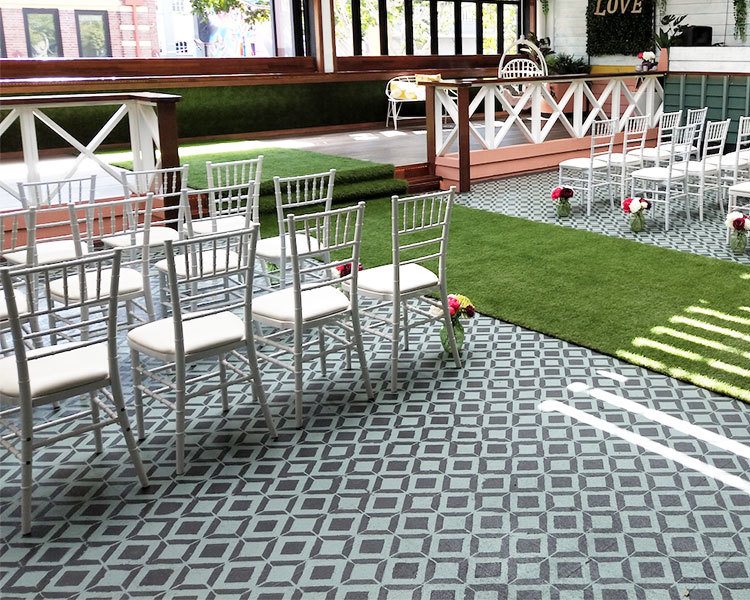 An overview of the Tiffany Chiavari chair
Originally known as Chiavari chairs, Tiffany chairs date back to the 19th century. The earliest design is said to be based on the creative influence and artistry of an Italian designer known as Giuseppe Gaetano Descalzi, who hailed from the town of Chiavari. Mr Descalzi was invited to conjure up ideas for a new chair, which offered a simpler alternative to the Empire Chair, a style that was very popular at the time.
Over the years, the popularity of the chair grew rapidly, and it became affectionately known as the Tiffany chair. Once made by hand, these chairs are now mass-produced, but they have retained an undeniable sense of understated elegance.
The Tiffany chair is a lightweight chair, with a slatted back. Typically made from light wood (or these days – poly resin), Tiffany chairs are hugely versatile, as they can be decorated with bows, ribbons, and floral garlands, and you can choose cushions in a range of colours and styles.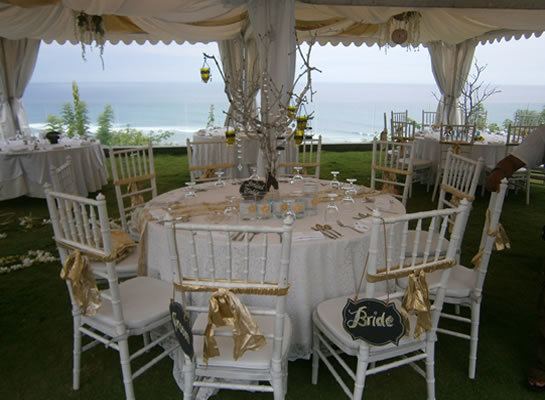 Why are Tiffany Chiavari chairs so popular?
Tiffany chairs are a hugely popular wedding chair because they look elegant, they're versatile, and they tick both the style and substance boxes. These chairs look beautiful, but they're also comfortable, and they can be transported and stacked easily, which makes setting and clearing up less time-consuming.
With Tiffany chairs, there is scope to personalise the look of any venue, as you can select different coloured cushions, and you can add decorations to match a theme or carry a specific colourway. If you're staging a country wedding, for example, and you've got vases, buckets, or tins full of wildflowers on the tables, you can hang a garland around each chair as well as decorate the venue with wine barrels as an example.
Alternatively, for a chic, modern birthday celebration or wedding, you could add a sash or a delicate bow. Chiavari chairs also represent good value for money, and they are an affordable option for couples looking to plan a wedding that won't blow the budget.
LOOKING FOR AN ALTERNATIVE WEDDING CHAIR?
TRY THE AMERICANA WEDDING CHAIR!
What kinds of events can Tiffany chairs be used for?
One of the most appealing advantages of a Chiavari chair is its versatility. From modern to rustic venues and weddings to birthdays, corporate events and garden parties, these chairs are an excellent choice. This type of chair can be used both indoors and outdoors, and you can dress the chairs to suit any kind of occasion.
As the design is modest and stylish, it will suit all weddings, from lavish, opulent affairs to intimate, low-key celebrations. You can also mix and match cushion colours or opt for simpler options like white or gold.
If you're organising an event, or you're in the midst of putting the final touches to planning a wedding, it's well worth exploring the option of Tiffany Chiavari chairs. Take a look at our range of Tiffany's here and then build a quote for your function all online!