When planning an event, it is always important to strike the right tone. Whether you have a milestone coming up, want to reward your employees, or are just keen to have a little fun, it is important to create the right atmosphere for your guests.
Having helped out with quite a few different types of events over the years, we are pretty much pros when it comes to finding the right vibe for a specific cause. We have therefore decided to make a list of all the different parties for all sorts of occasions we have contributed to, so we can give you some inspiration and guidance when planning your next event.
Plus, we will share how events we have collaborated with in the past have incorporated jumping castles, because who doesn't want a jumping castle at their next event?!
Birthdays
First up we have the classic birthday party. Whether the birthday girl or boy is turning four or forty, there are a number of staples that can always be called upon for this type of event. Sometimes a nice family dinner at a fancy restaurant is all you need, but often times you will want to make it special, especially if you are celebrating a milestone birthday. For these you have two options: rent a function space or transform the backyard into the perfect party venue.
The first option is pretty straightforward. There are some absolutely stunning function spaces around Brisbane that you can rent out, and many of them will take care of everything from the food and drink, to entertainment.
The only downside is the price. Some venues are rather expensive, and with catering and a bar tab that cost can really add up. A backyard or house party is a more personal and usually much cheaper option that is perfect for a DIYer.
If your space needs sprucing up, it is amazing what a few fairy lights and décor items such as Wine Barrel Bar Tables can do, plus, the food and drink will turn out to be way cheaper.
If the party is for a child or teen, make it a daytime bash and hire our Disco Bouncer for a bit of fun. Pair it with a Slushie machine so everyone stays hydrated.
For an adult birthday, Slushie machines can make terrific and easy cocktails with the added bonus of you deciding the strength.
We have also supplied many 18ths and 21sts with castles to add a little bounce to the evening, and all of this easily applies to anniversaries and reunions as well.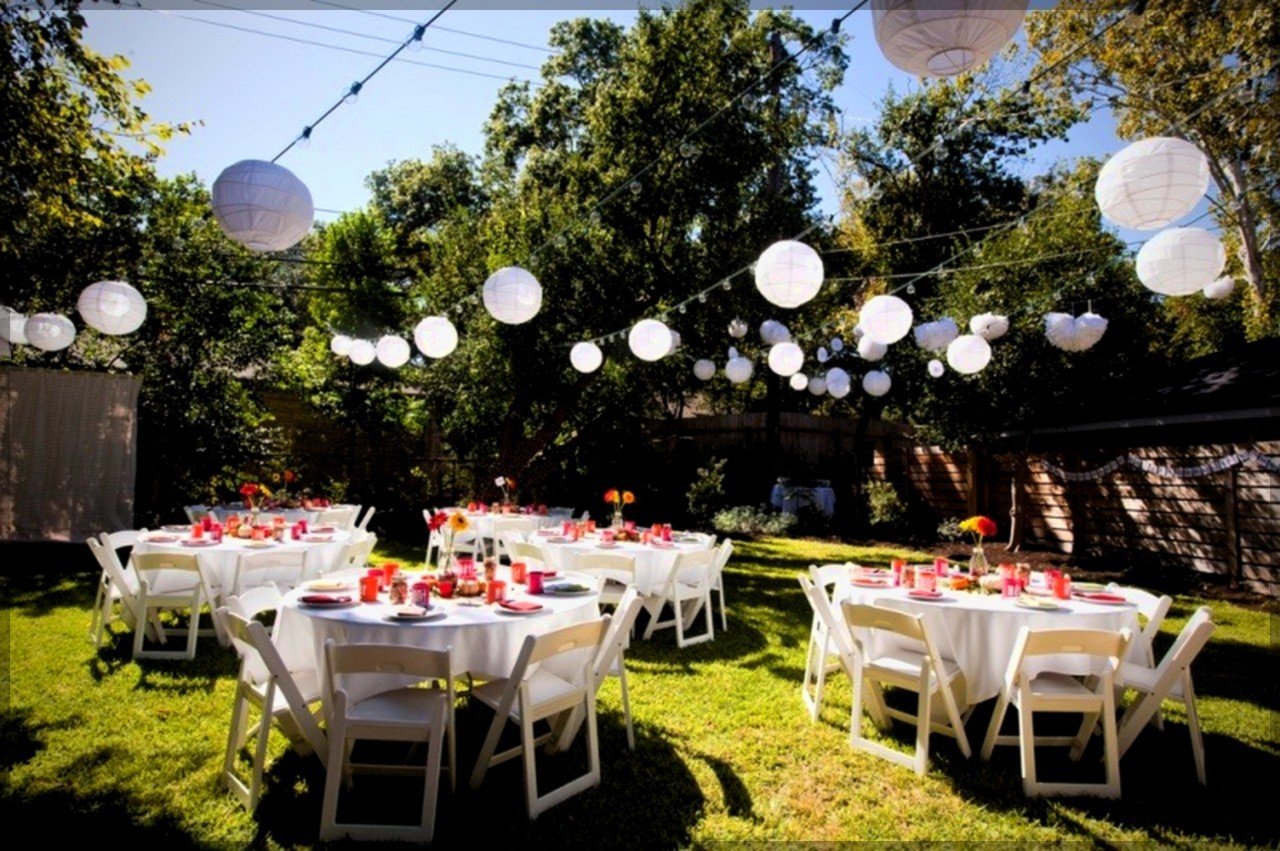 Schools
Another common event we cater to are school events. Whether it is primary or high school, the important thing here is to make sure there is enough to do that will keep hordes of kids occupied and entertained throughout the day. This is why fetes and carnivals are such a popular option, plus the school usually already has an oval or large hall that can serve as the venue.
We supply a range of food and drink machines that are ideal for fetes, including Fairy Floss, Hot Dog, Mini Dutch Pancakes, and Slushie machines. It all depends on what your aim for the event is. If you are steering the theme and message toward health, one of our obstacle course jumping castles would be an apt addition.
We recently collaborated with a massive two-day event called The House Bounce Battle at Calamvale Community College, which was a total hit. They hired seven of our castles to create a gigantic inflatable world, including two Obstacle Courses, inflatable Hungry Hippos, Slides, the inflatable Wrecking Ball, and more.
This entertained over 1000 kids over the two days, and the cost was easily covered by a $10 entry fee per head, with plenty left over to raise funds for the school.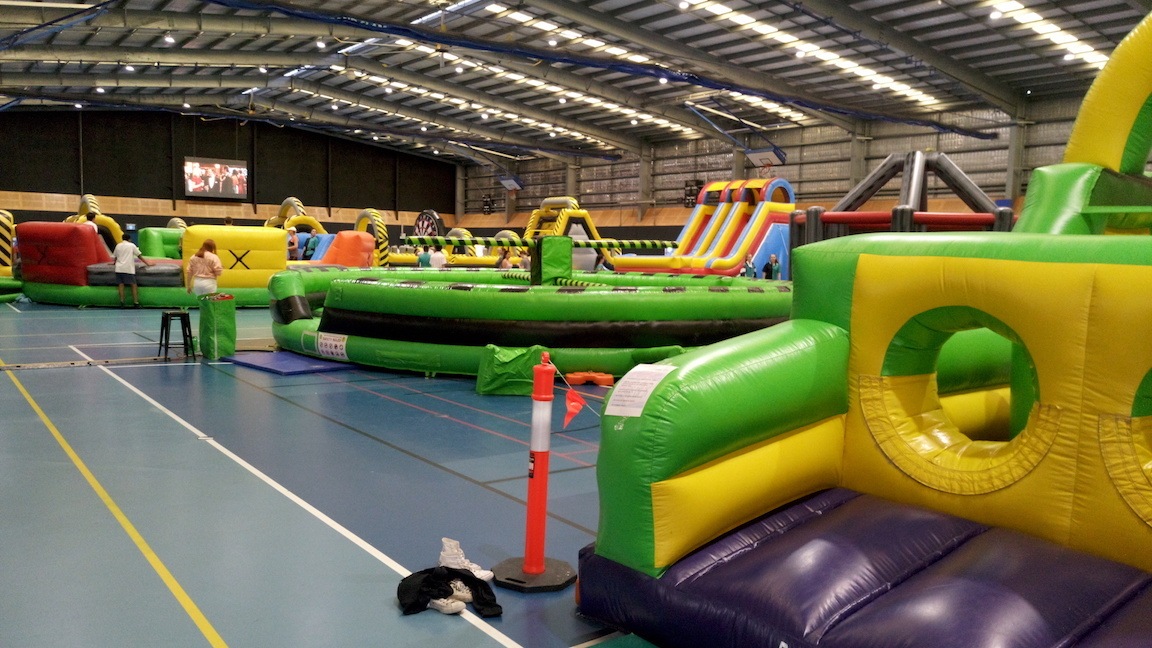 Fundraisers
Festivals, fetes, and carnivals are a great option for any fundraiser, especially if you have volunteer stalls selling homemade treats and goods. Having a main event gives a fundraiser a point of focus, allowing time to explain what the fundraiser is for, raise awareness, and give purpose to the day.
This main event can come in many forms, from a fun run where the festival is the start and end point of the route, to a talent show for people within the community to show off for a good cause.
Mercure Hotels raises money for charity with an annual four-day event called 'Race to Survive'. They go all out with this one, pushing the contestants to the limit with four days of intense physical challenges. One of their challenges included our 30 metre Obstacle Courses to get through, as well as a selection of our other bounce houses and games to give the spectators some fun.
Fundraising through health and fitness send a brilliant message that creates a positive vibe conducive to raising funds for a good cause.
Team Building
Team building days are valuable for any business to build trust and comradery within the workplace. These can be any and every type of event, from team drinks after work to a full-blown gala. The type of event that we find always works well are those centred around team work, physical activity, and just a touch of healthy competition.
Our Obstacle Course inflatables are a great option for team races and relays, encouraging the group to communicate and support one another to reach the finish line ahead of the other team. Another great option is Bubble Soccer, where the players are encased in inflatable balls to add an extra element of difficulty and fun.
Banana Life is a team building business that recently used one of our inflatable games for an event. They set up Soccer Darts to inspire some healthy competition as part of a full day of events aiming to build rapport among the group.
The game involves kicking balls at a giant inflatable dart board which not only takes concentration and skill but can be incorporated in larger team events and competitions. We have recently posted an article with some great ideas for team building events, which you can check out here.
Open Days
Store openings and business open days are a tried and true way to raise community awareness of your business while communicating exactly what it has to offer.
The types of businesses that can benefit from these are usually locally based businesses with a store front, relying on word of mouth and a good reputation to thrive.
Gym open days are a good example where a front of store event can show off what a membership at that gym has to offer. This can be achieved with a simple table out front with some pamphlets and free samples to draw people in.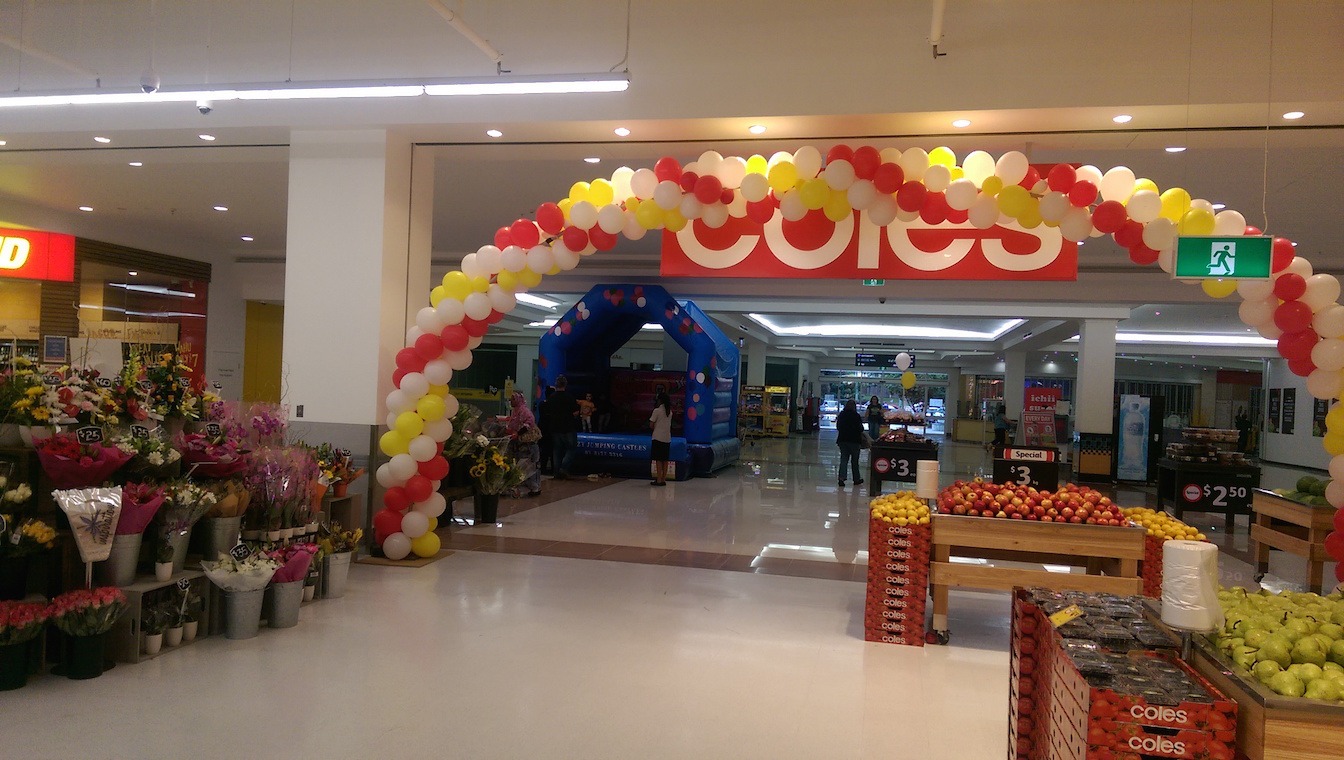 For larger businesses, you might want to think bigger. A new Bunnings at Keperra opened recently, and they went all out to spread the news, hiring our Combo Castles for multiple days at a time and, of course, serving up snags at their trademark sausage sizzle. This not only was a whole lot of fun and drew a crowd, but effectively announced that they were open and ready for business.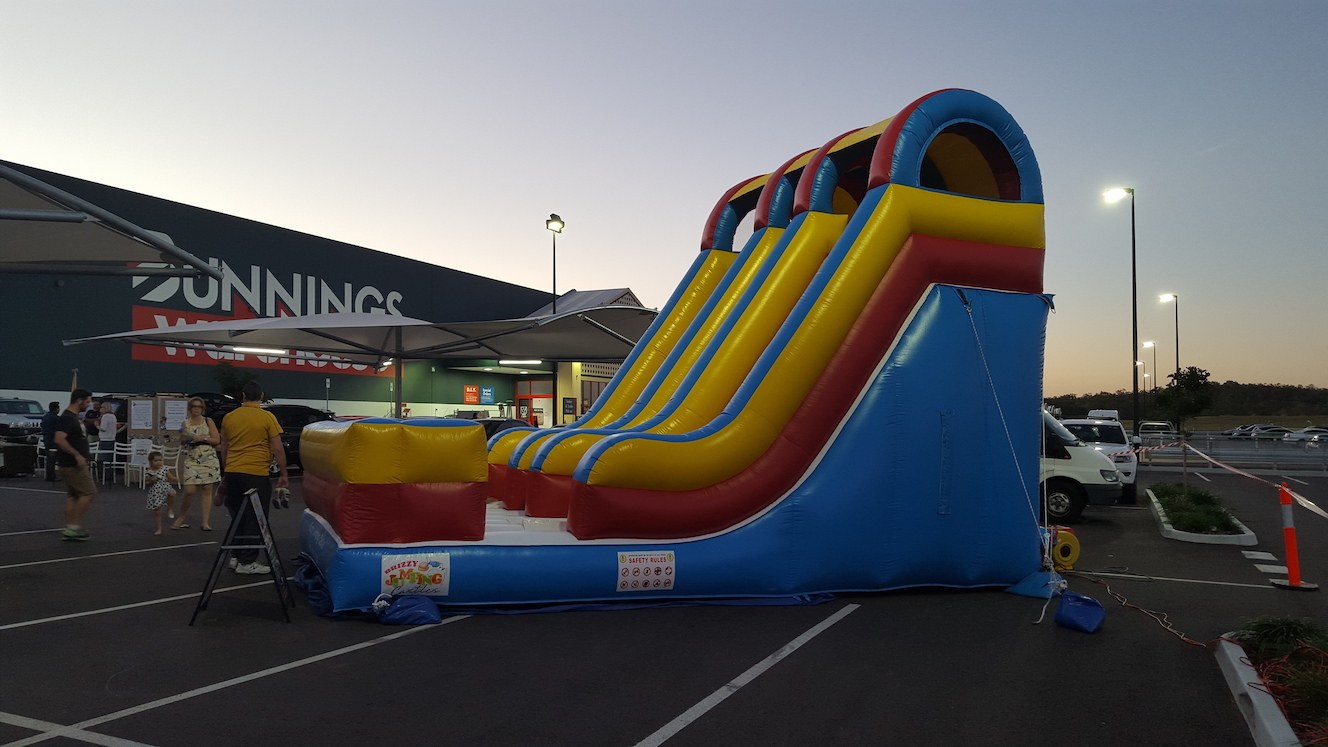 Community
Last but certainly not least, we have community events. These events can be for any type of community, from universities to churches and even just neighbourhood street parties. Market days are often one of the best ways to create an event for the community that is also created by the community.
You can enlist local businesses to sell their wares and volunteers to sell homemade goods and food items. Just put the feelers out in your community and see what people have to offer, if someone owns a food truck and another sells their own art then you already have the beginnings of a community market.
If you want to go bigger, you can always hire a jumping castle to add to the enjoyment. Eat Street Markets rents from us every Sunday for their family day and our Combo Castles are always a massive hit.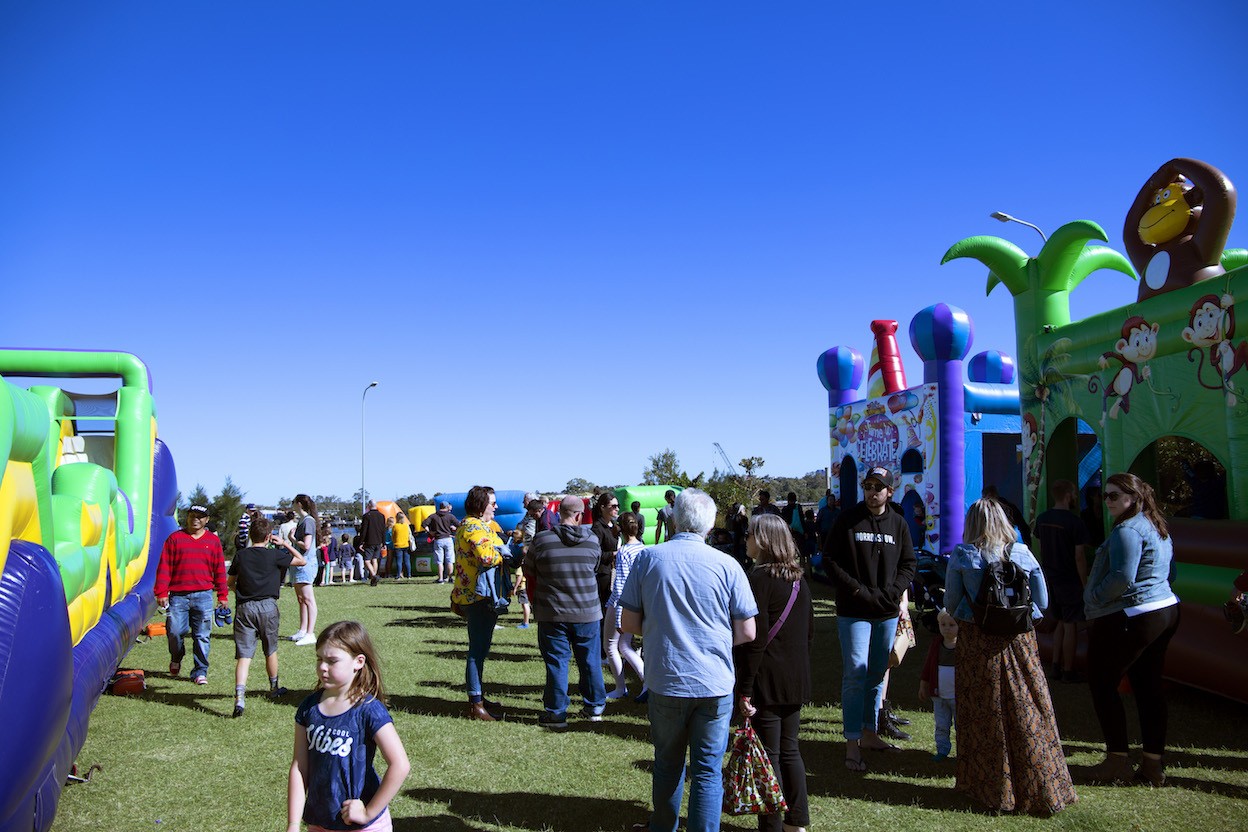 We hope you enjoyed our top ideas for what is possible at your next event. If you have any questions or need more inspiration, check out our other articles or give us a call!