If you're looking for the perfect lighting option for an event or a special occasion, have you thought about festoon hire?
Festoon lighting is a versatile option for parties, gatherings, and weddings that is guaranteed to create an incredible aesthetic and set the right tone!
Simple to set up, expandable to hundreds of metres and can be set up in any way that suits your event, festoon lighting is really a game changer when it comes to setting up your party!
Introducing festoon lighting
Festoon lights are often known as party lights because they're an incredibly popular option for outdoor celebrations and special events. These attractive, functional lights are made from strings of bulbs, which are suitable for all kinds of environments. There's a huge range of styles available, and you can choose from round or oval-shaped bulbs, selecting lights that suit the vibe or theme of the occasion and the choice of venue.
Festoon lighting is often recommended for al fresco parties, weddings, corporate events and special occasions because it's capable of weathering the elements, it enhances the look of the venue and it adds ambience.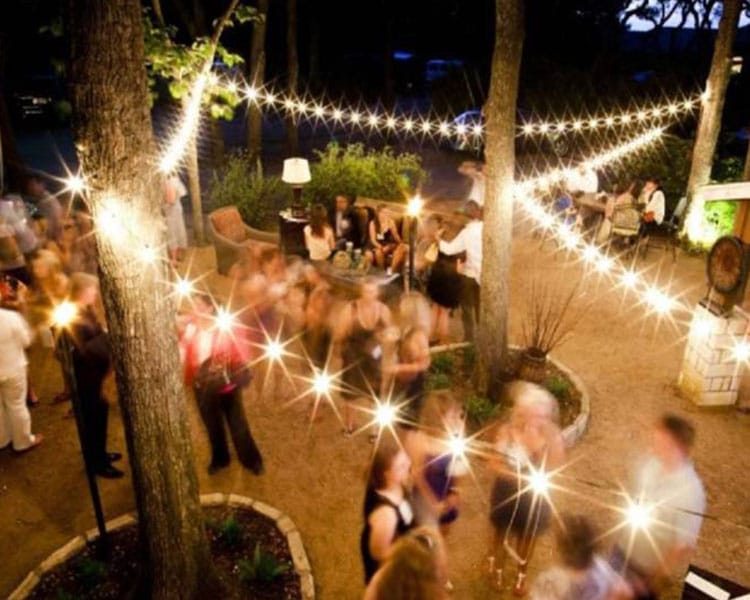 Why festoon lights are a perfect addition to your next event
Lighting plays a crucial role in setting the tone of the event, as well as ensuring that your guests are able to see where they're going. If you're planning an outdoor event, you want people to be safe, but you also want to create the right atmosphere and the perfect aesthetic.
Festoon lights are a fabulous addition to outdoor parties and events because they work in every setting, and they're versatile. They complement different types of decorations, they fit in with a range of themes, and they can be added as a statement centrepiece or as a subtle decorative touch. From rustic tea parties (check out our wine barrel hire!) to raucous pool parties and festival-style weddings to opulent birthday celebrations, festoon lighting ticks all the boxes.
As well as looking the part, our festoon lights also offer a broad spectrum of additional benefits. They are made from durable, hard-wearing shatterproof glass, feature low-voltage LED bulbs, and run off a transformer that can be plugged directly into any standard power point!
You can also customise your party lighting options to suit the individual occasion. If you're hosting a laid-back party in the garden, dim the bulbs for a cool, tranquil atmosphere. If you're planning an action-packed all-nighter, turn up the intensity and keep the party going until dawn (why not try our coloured bulbs!. Our festoon lights are weatherproof, and they can be used for just about any outdoor occasion imaginable.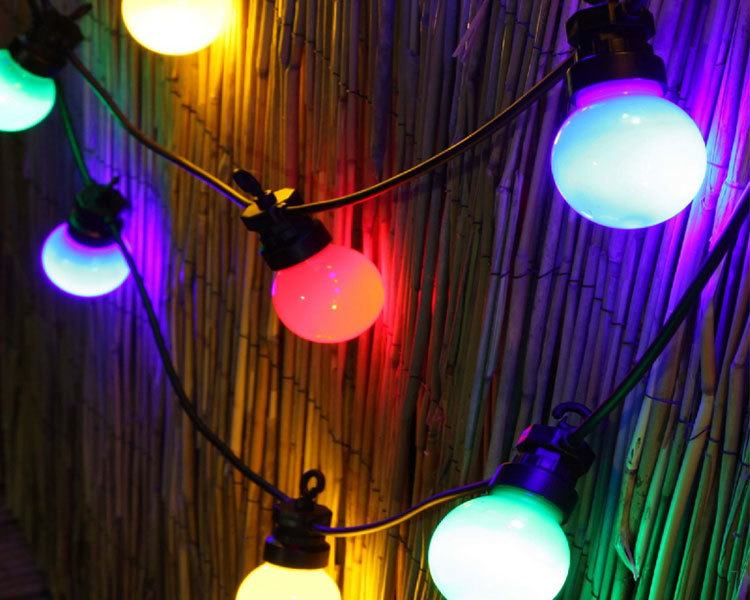 Are festoon lights the right choice for you?
If you're planning a party or organising an event, you may be thinking about what kind of lighting will work best. The beauty of festoon lighting is that it suits every venue, and it can be styled and customised to fit in with different themes and celebrations.
Whether you've got a few friends coming round for a couple of drinks and a barbeque, or you're organising an event at a restaurant or club with hundreds of people expected to attend, you can add serious visual appeal and atmosphere with festoon lighting.
If you're looking to light up your next event and get the party started, why not consider festoon light hire? We hire our commercial grade festoon lights in 20 metre lengths that can be linked together and stock hundreds of metres at any one time! Talk to us today about adding some festoon lights to your next event!