Not sure which jumping castle to hire for your next birthday party or event? Here's all the tips and advice you need to work out what's going to work best for your type of celebration.
A birthday party, church event, family fun day or store opening are all great excuses to hire a jumping castle. Unless you're expecting massive crowds, the two most popular types of "bouncy castles" are known as "bouncers" and "combos".
So what's the difference you ask? Keep on reading!
"Bouncer" Jumping Castles
At Brizzy Jumping Castles, we call our plain bouncers, "Medium Bouncy Jumping Castles". They're generally a 4mtr x 4mtr sizing that feature either an open front for easy access or a large graphic front panel with a small entrance in the middle for access.
The main distinction is that internally, these jumping castles do not feature anything but a jumping area for the children to bounce around in. There's no slides, tunnels, basketball hoops, punching poles or climbing walls or anything that would get in the way of plain old jumping fun. Once you're inside, it's simply bouncing and that's it.
As mentioned above, you'll generally see two types of bouncers available for hire and we have them both:
Open front jumping castles like this one: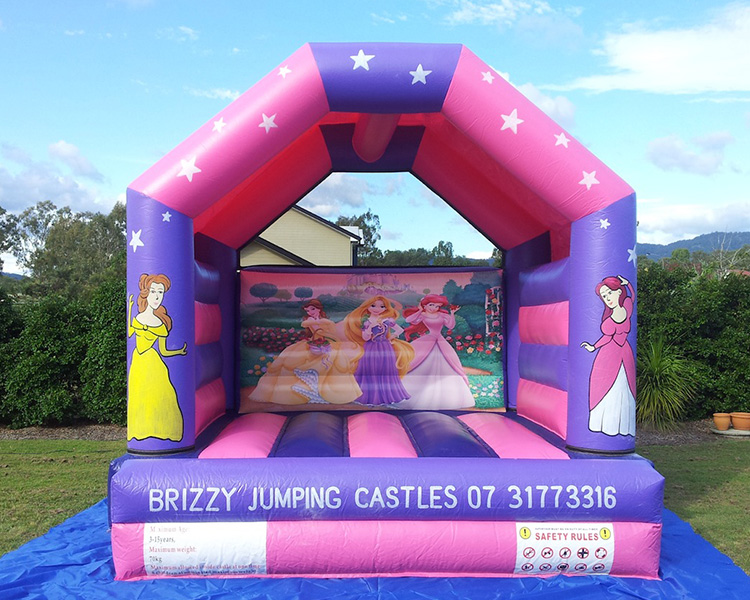 Our Princess open front bouncer castle
Closed front jumping castles like this one: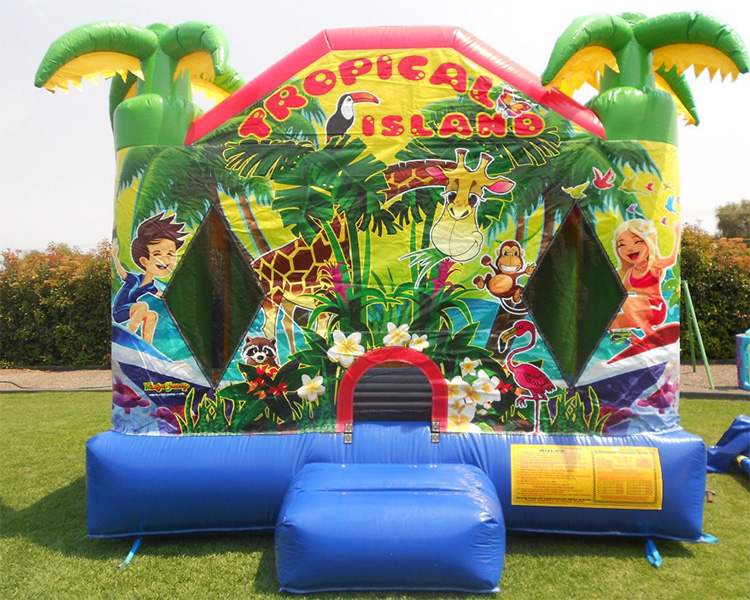 Our Tropical Island closed front bouncer castle
They are a great for someone looking at budget jumping castle hire for their backyard birthday party or any type of smaller event as well as someone with limited space available for set up. They are available in larger sizes but generally you'll find that most bouncers are restricted to a 4mtr x 4mtr or 4.5 x 4.5mtr sizing and will operate on just one power outlet.
So which bouncer castle is better?
Ultimately children will have fun in both but depending on the type of event and the age of children you're expecting, you might choose one type over another.
The Princess open front bouncer castle shown above and custom designed by Brizzy Jumping Castles, clearly has a larger area for entering the bouncy castle. We recommend this type of inflatable for birthdays or events where younger children are expected and parents may want to assist or allay any fears the child has entering the jumping castle for the first time. Whilst parents can't bounce inside (these are children's jumping castles!), it's ok to crawl in and hold the child's hand until they become accustomed to the inflatable.
All of our open front bouncers also feature fully inflatable side and back walls which gives kids that extra little bit of bouncing fun as well as rain/shade covers over the top and an inflatable front bumper to prevent children from simply falling onto the ground (seen on many older models of jumping castles – check out the image below).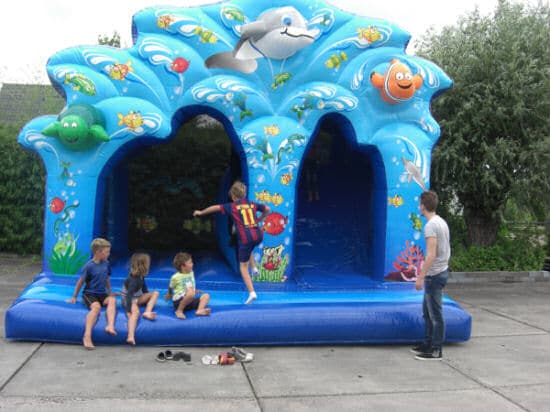 Older style bouncer castle with no stopper at front ie. danger!
Closed front bouncers internally are the same but have two main differences in design.
The first is clearly the entrance. These feature only a small (usually netted) window on the front with an entrance ramp to allow access which makes it difficult for larger children (or adults if required) to enter.
The second is the side and back walls. Generally closed front bouncers will have a main graphic panel on the front to highlight the theme and then fully netted side and back walls to allow viewing from each side. The downside to this is that children can't use these walls as additional bouncing platforms. Here's our Tinkerbell bouncer castle with netted sides and back: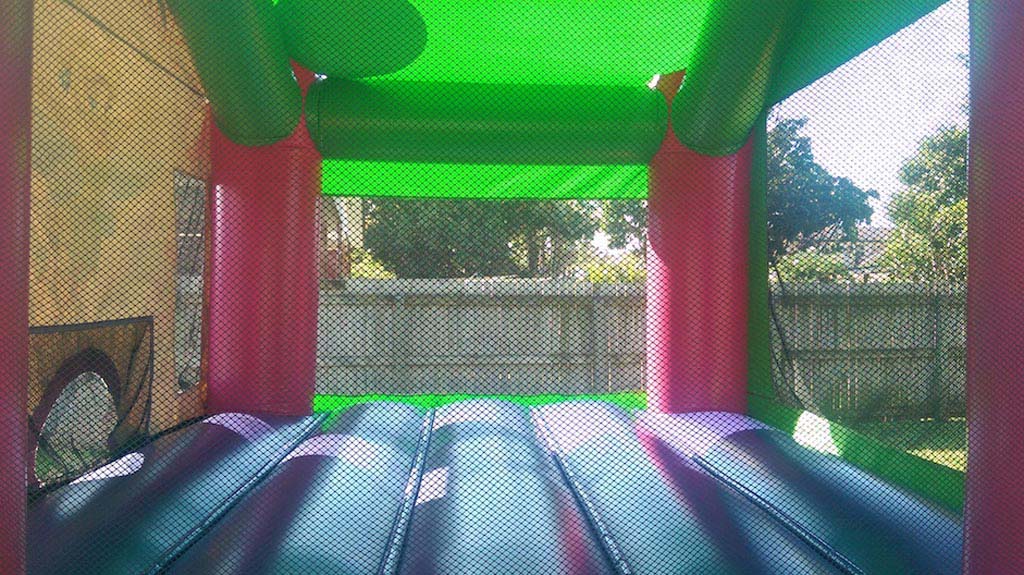 Tinkerbell bouncer castle with netted side and back walls
So that's the standard bouncer castles covered. To recap, here's the main features of these types of jumping castles:
Main features of a Bouncer Castle
Generally smaller in size – around 4mtr x 4mtr
Features a bouncing area only – no slide, punching poles or basketball hoops
Comes in two styles – open front or closed front
Can have inflatable side and back walls or netted
Great for younger children and events where a small number of patrons are expected
Doesn't require a lot of set up space or access width
Great for people looking that are looking for cheap jumping castle hire
Combo Jumping Castles
Larger combo jumping castles can be looked at as the "big brother" to the smaller plain bouncy castles.
As the name suggests, they feature a combination of other activities built into the inflatable to provide more fun and excitement for patrons. These usually include any or possibly all of the below:​
Slippery slides either built into the combo jumping castle or externally coming off the side
Climbing walls or staircases to access the slippery slide
Vertical or horizontal punching poles that can be kicked, punched, manoeuvred around or jumped
Basketball hoops
Inflatable tunnels
The number of activities internally varies pending theme and again, there are different build styles for combo jumping castles based on the sizing.
Here's some images of our popular combo Jungle jumping castle showing punching poles, stairs and slide:​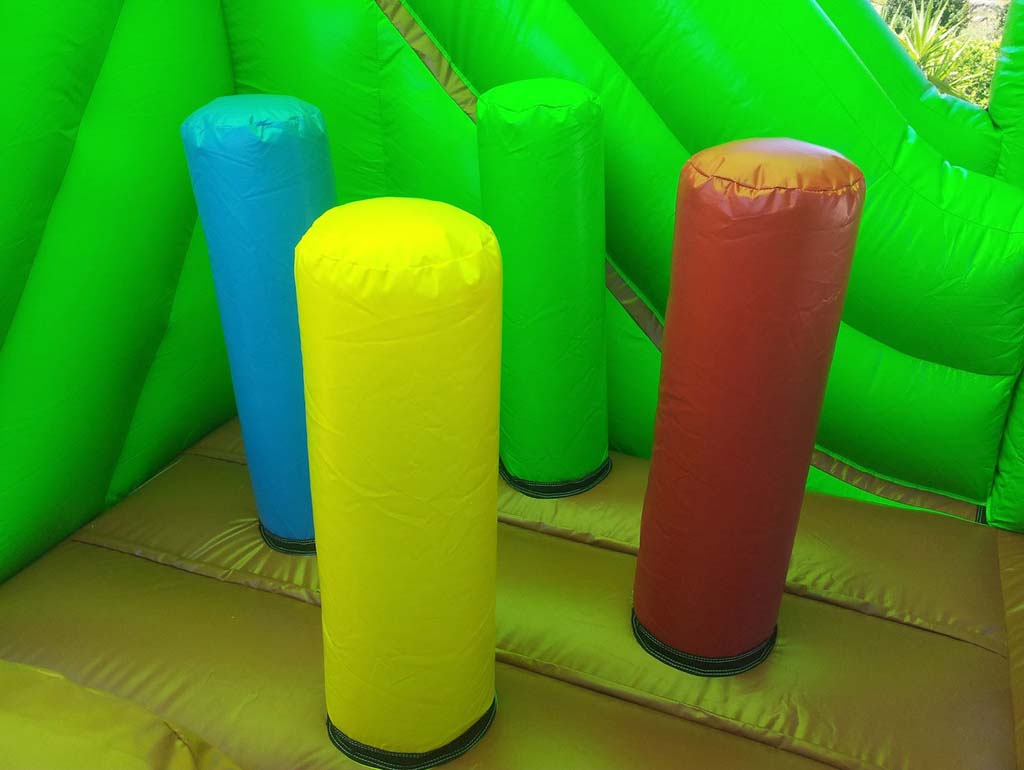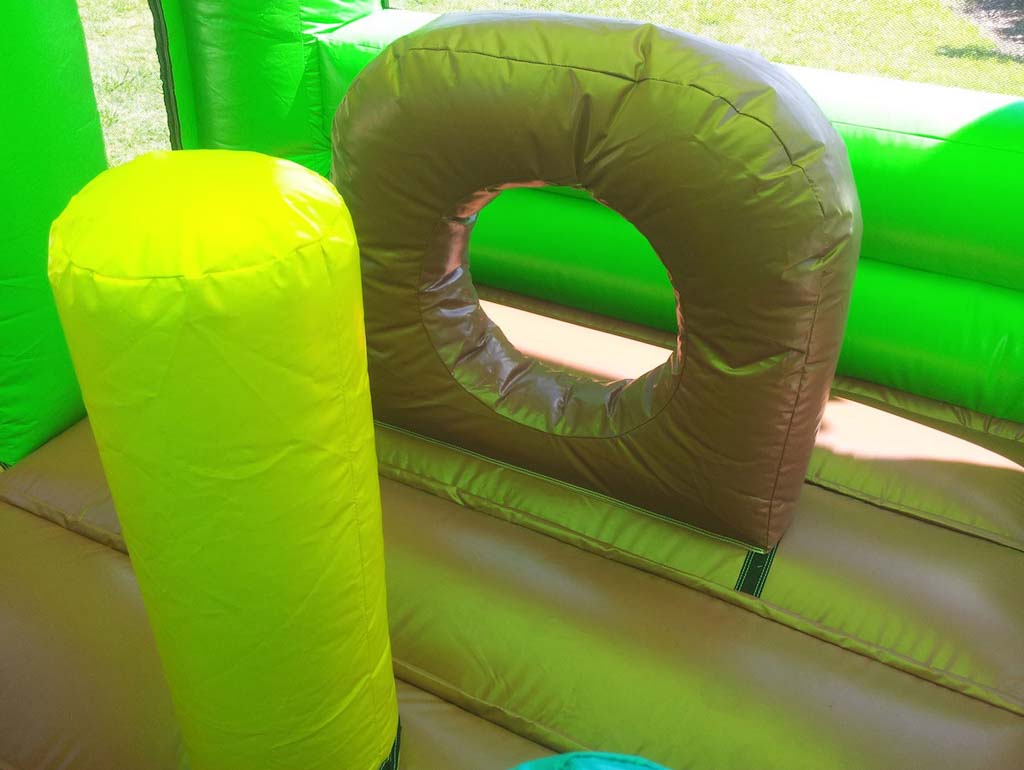 Our large combo Jungle jumping castle with slide is booked out almost every weekend!
Larger combo jumping castles generally start at around 4.5mtr x 4.5mtr but can be as large as 8mtr x 9mtr to allow for more patrons or jumping areas so take into account the space you have available. The larger the inflatable, the heavier it's going to be and the more restrictive the access requirements are going to be from the jumping castle hire company.
Combo jumping castles simply add another element to the inflatable and keep older children a little more entertained. They are usually far more popular at sporting carnivals, community events, family fun days and church events or markets but also great for more interaction at backyard birthday parties.
What the heck is a C4 combo castle and C7 combo castle?
You've probably seen or been quoted a C4, C5 or C7 combo. This is generally just a code indicating how many types of activities are built into the combo jumping castle. You shouldn't worry too much about these codes or even the quantity of extras included. Some bouncy castle hire companies will use the number to try and inflate the price they can hire the combo castle for though realistically, one punching pole or horizontal pop up isn't going to make or break your event.
The main feature that everyone will upgrade to a combo jumping castle hire for, is simply the slide. This gives the children a little bit more adventure and keeps them alternating between bouncing and sliding.
Combo jumping castles are still suitable for younger children but be aware that they will need to climb the stair case to get to the top of the slippery slide!
Main features of a large Combo Castle
Generally larger in size starting at 4.5mtr x 4.5mtr up to 8mtr x 9mtr
Features a bouncing area as well as a slide, punching poles, pop-outs, basketball hoops & more
Can have internal or external slides
Great for older children that demand a little more excitement
Requires a little more set up area and usually more power outlets
Better for larger events like sporting break-ups, family fun days & company events
A little more costly than standard bouncer castles
So which type of jumping castle should you hire?
Now that we've outlined the differences between the two main types of jumping castles, let's list out what you should be thinking about when deciding which type of inflatable you want to hire.
Age range​
Generally, both types of inflatables will cater for similar ages. As an example our range of medium bouncer castles and larger combo jumping castles with slides are both recommended for an age range between 3-15 years.
As a rule of thumb though, younger ages between 3 – 7 years will find the standard bouncer castles just as exciting as the combo jumping castles. This age range will also struggle to manoeuvre the climbing ladder on a combo castle by themselves and may need assistance from another child.
On the flip side, the older bracket of that recommended age range (8 – 15 years) may find a standard bouncer castle a little uneventful for their liking.
Theme
Taking into account our first point about age, on many occasions the jumping castle theme required for the event may trump the actual type of inflatable you end up hiring.
As an example, if you're hosting a Frozen birthday party and find a Frozen bouncer castle in your area for a good price, your child will more than likely be happy just because it's Dora!
Alternatively, your children might be a little younger but a superheroes party is called for so something like our superheroes combo castle can't be passed up!
Set up area
Larger combo jumping castles need more area so if you're only working in a tight space or have limited or difficult access, you may have to stick with a smaller bouncer castle.
As an example our medium bouncer castles require approximately 1 meter of width access which is usually adequate for most garden paths, gates and side access at houses. Our larger combo jumping castles though require a minimum of 1.5 meters of width access which can prove difficult in some properties, in particular newer developments.
Be sure to check the product specifications listed (we list full access requirements on all of our product pages) when selecting your jumping castle before hiring. Jumping castles are heavy and can't be lifted over fences​ and most reputable castle hire companies will refuse to do so for health and safety reasons and to protect their team members.
Budget
You'll find that most combo jumping castle hire is more expensive than the smaller or plain bouncer castles. If you're on a budget or looking for cheap jumping castle hire or just a little side-note to your party/event, then a bouncer will do fine.
If there aren't any budget constraints, then you'll definitely get more action out of a combo jumping castle and slide.​
Event type
Lastly, take into consideration the event type.
As an example, birthday parties can accommodate both types of bouncy castle but a sports club break up full of eager young football players will most likely demand something a little more entertaining!​
Weigh up your event numbers along with the above and you'll be heading in the right direction.
You can check out our range of medium bouncer castles by clicking here
You can check out our range of largecombo castles with slides by clicking here
Still stuck and not sure what you need? Contact us today for expert advice and the experience of over 5000 events!