Out of all the party hire equipment & events we assist with, our popcorn machine hire packages have proven to be the most versatile and successful.
We're constantly amazed at the uses and popularity of hiring a popcorn machine but when you think about, it's no wonder popping your own corn kernels is so "popular" (get it…see what we did there:)
Our standard popcorn hire packages come with everything you need to make cinema tasting popcorn with ease or alternatively you can have one of our fully trained, blue-carded operators do everything for you!​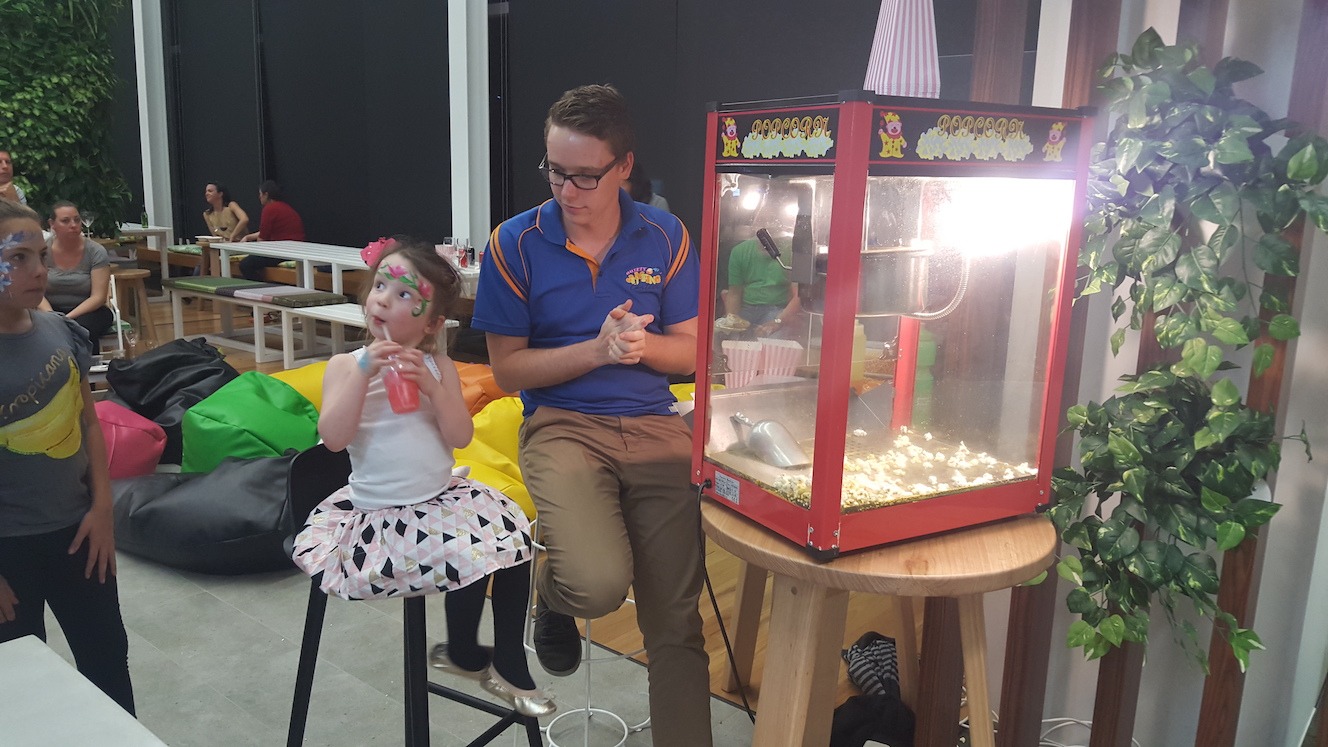 Our popcorn hire packages all come with:
Premium Australian farmed corn kernals packaged and ready to pop in your serving quantity
Premium coloured coconut oil (popping oil) for your serving quantity
Butter popcorn flavoured salt for finishing off that cinema flavour!
Premium quality printed popcorn bags for serving to your guests
Concerned about serving popcorn?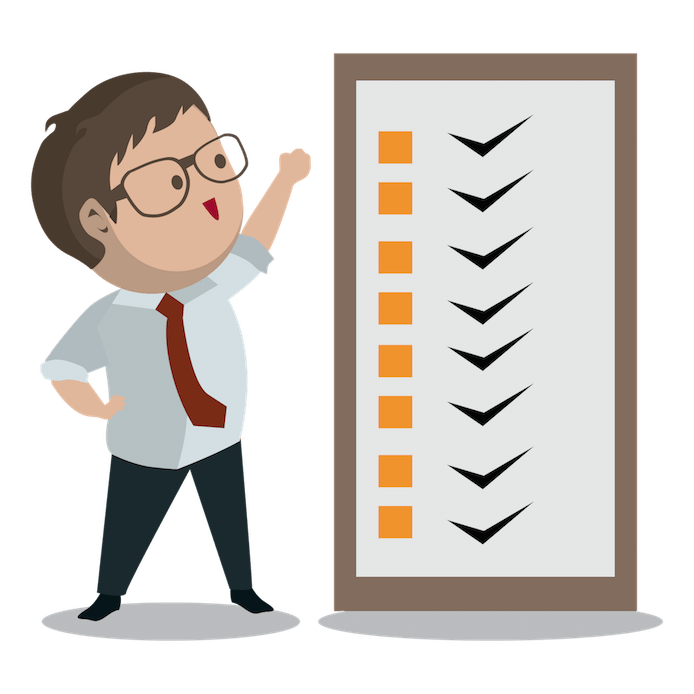 Don't be!
Popcorn is gluten free, low in calories and non-GMO as well as being free of both sugar and sodium. Perfect for school events or backyard parties when so many children have various allergies!
Popcorn is high in dietary fibre and antioxidants
Popcorn contains only 30 calories per cup
Popcorn is low in saturated facts
How do I use the popcorn machine?
Our popcorn machine hire packages all come with delivery and demonstration (delivery charges may apply), so once one of our friendly team members has set up the machine, you'll receive a full walk-through on how to operate the machine during your event.
Rest assured though, with 100's of popcorn machine hire bookings, everyone thus far has been able to make their own popcorn in minutes!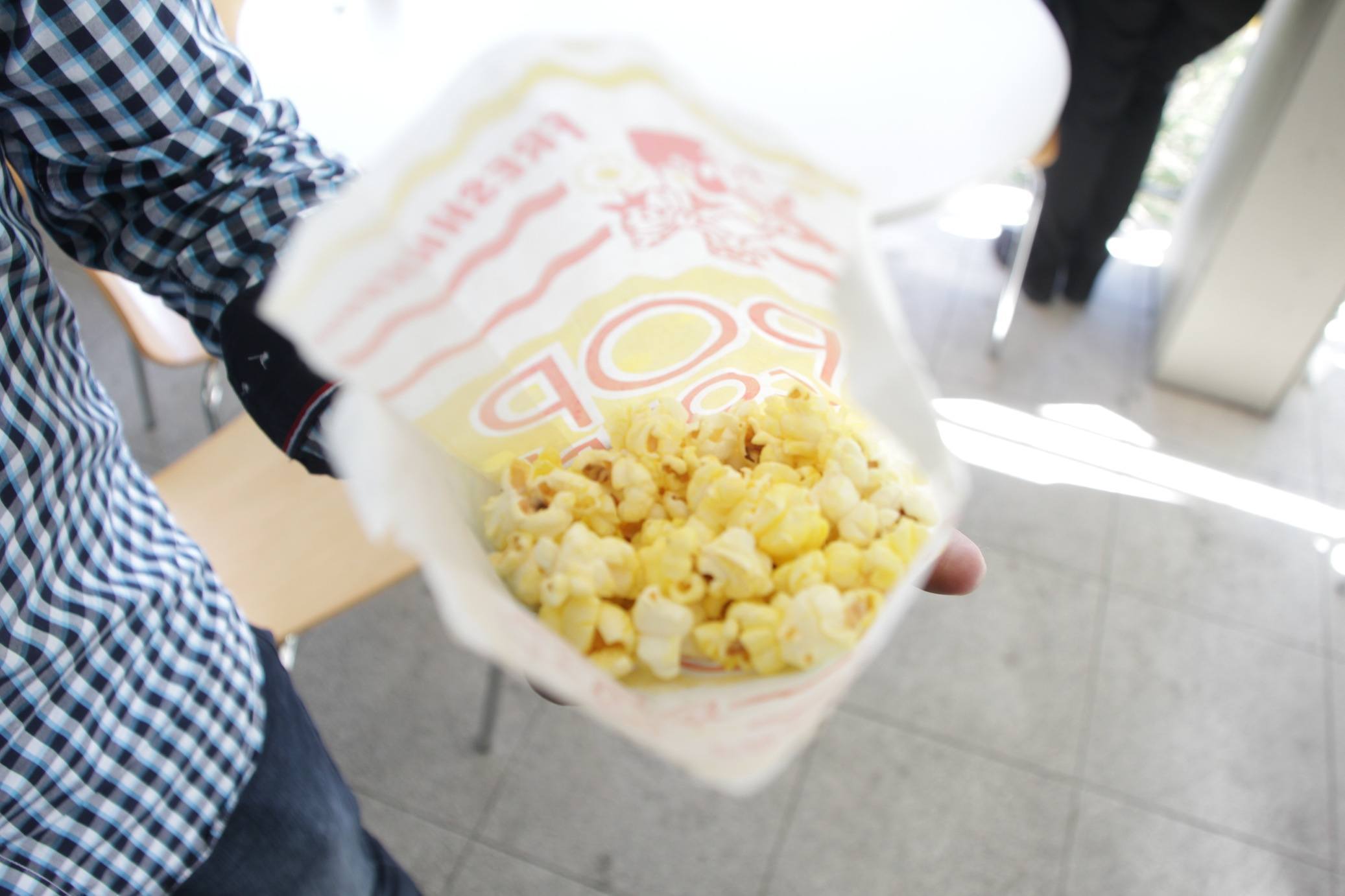 What kind of events can use a popcorn machine?
The reality and our experience is that our popcorn machines are perfect for almost ANY type of event. Here's just a sampling of some of the most popular bookings we have:
Movie nights – private, public or school
Backyard birthday parties
School projects (business studies)
Private "carnival" parties
Family fun days
Sports club break ups
Sporting events
Store openings
Fundraisers & charity events
Corporate team building days
Christmas parties for staff
Promotions and prizes
Clubs and restaurants
Community events
Popcorn machine hire packages available:
The beauty of our popcorn hire packages is that we've got something for everyone! Events during the day, events during the night, small quantities, large quantities, operated or DIY. It's as easy as tailoring the package to your needs and if you don't see something that fits – we can probably create it for you!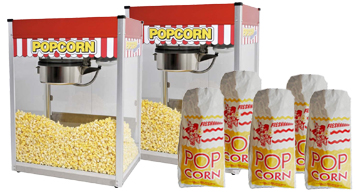 Tip: You'll also need to factor in the time period that you are required to produce your quantity of popcorn and not just get the package with your overall serving quantity!For example, it's impossible to produce 500 servings for a 2 hour event with just 1 machine. Work on the average production capacity of each machine being around 4-5 bags per 5 minutesN.B. Our packages automatically increase to 2 popcorn machines after 200 servings

50 Servings of popcorn & consumables with set up (DIY) – 1 Machine

From $125

100 Servings of popcorn & consumables with set up (DIY) – 1 Machine

From $150

200 Servings of popcorn & consumables with set up (DIY) – 1 Machine

From $175

300 Servings of popcorn & consumables with set up (DIY) – 2 Machines

From $275

400 Servings of popcorn & consumables with set up (DIY) – 2 Machines

From $325

500 Servings of popcorn & consumables with set up (DIY) – 2 Machines

From $375

500 + servings of popcorn & consumables with set up

Contact us
There's plenty of party hire extras that go with hiring a popcorn machine. Amp up your event with: