A tight knit team that can effectively work together is essential to most workplaces, especially those that rely on intercommunication and team work to get the job done. This bond among the troops is something that grows with time, but there are lots of activities that can help speed it along. Here's our top 5 inflatable ideas that will not only make for a brilliant team bonding experience, but also a super fun day away from the computer!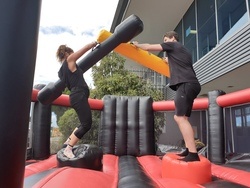 Inflatable Obstacle Course Challenge
A sure-fire way to build your team's communication skills is by putting them through a series of obstacles. Our
obstacle courses
are the perfect setting for a race of two teams. You could make it a straight team race to grow support within the team and as a bonding exercise, or you could add some variations to make it a little more challenging. Adding a blindfold to the situation would require the other teammates to guide the racer through the course, building communication and trust within the group. Another option is to make it a relay, relying on patience and support to encourage each team member individually.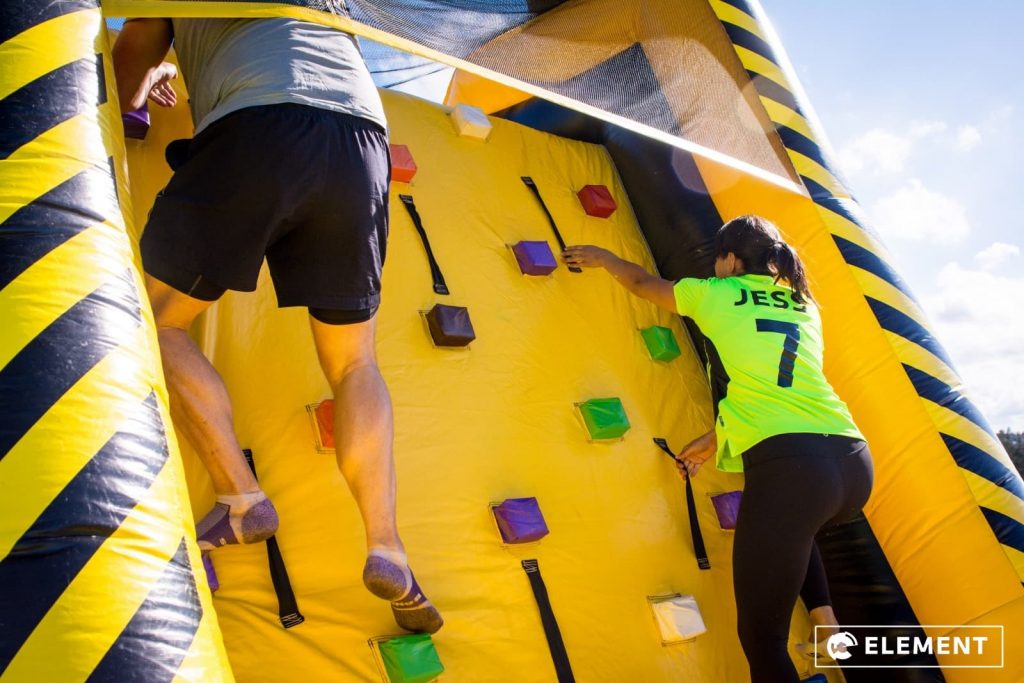 Bubble Soccer
Another physical activity that requires little to no skill is
Bubble Soccer
. It is pretty much exactly what it sounds like: you play soccer in a bubble, or 12 individual bubbles to be exact. This one is great for bonding and having a laugh together. Though the players will be in two teams of six (or less if needed), all skill and competitive edge is made redundant by the fact that you are enclosed in a large inflatable bubble, trying to play soccer without bumping in to all the other bubbles running around. Don't need the inflatable soccer field? No problems…we'll set out a perimeter for your teams and you can just bowl each other over:)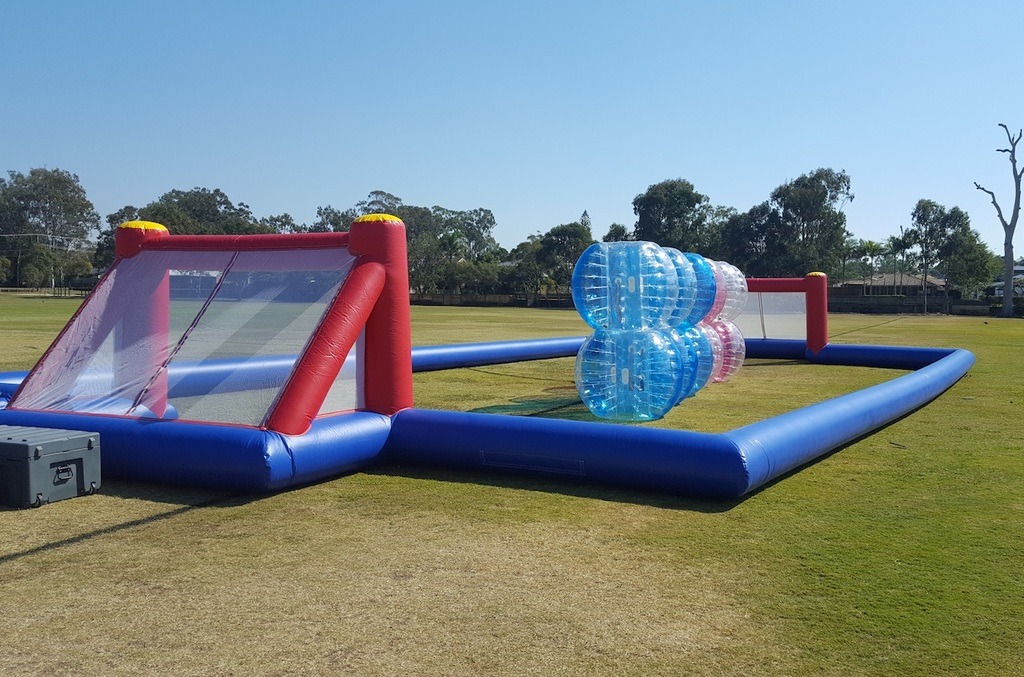 Gladiator Jousting
The inflatable Gladiator Cage is hilarious one-on-one action where opposing players try and knock each other off an inflatable podium. Pair up HR with Accounts and see who comes out on top! It's super safe yet competitive and definitely one of our most popular team building inflatables for corporate days! Grab a stick, enter the arena…then attack your work mates in either our
5 x 5 inflatable cage
or
6 x6 arena!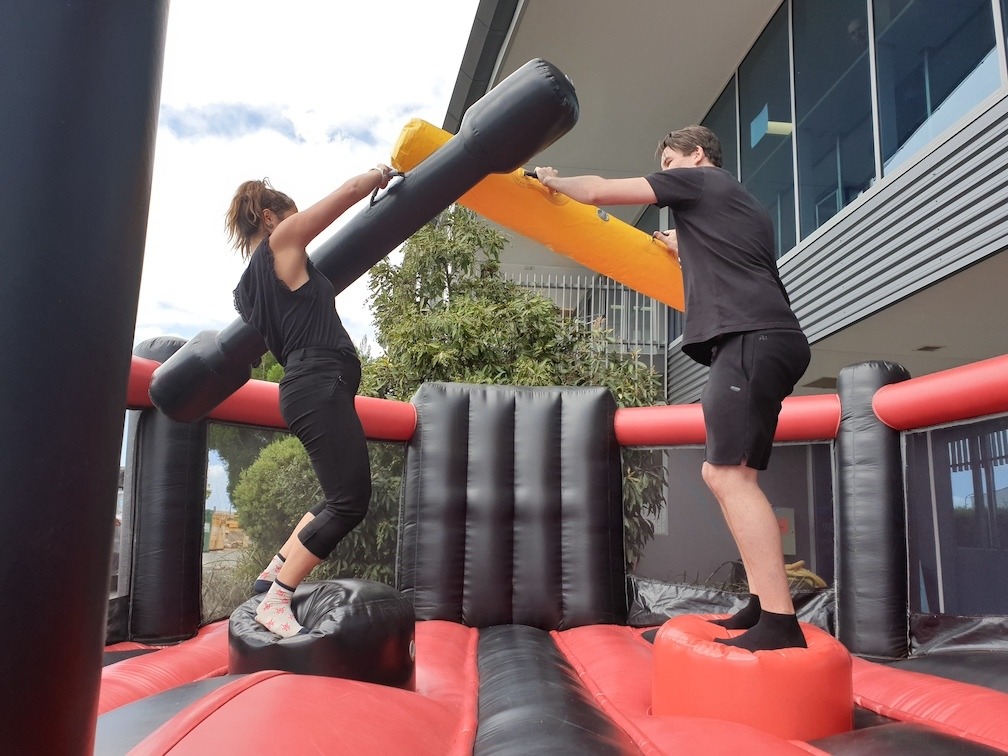 Inflatable Meltdown
Again, super competitive, our
Inflatable Wipeout game
allows up to 8 players at any one time to duck, jump and weave against an operator controlled set of spinning poles. Sounds easy but the operator has the power to make them spin left or right, fast or slow and everything in between! Hilarious to watch and challenging to play, the person who can remain standing on their podium the longest, wins! Take out the office trophy if you've got the energy!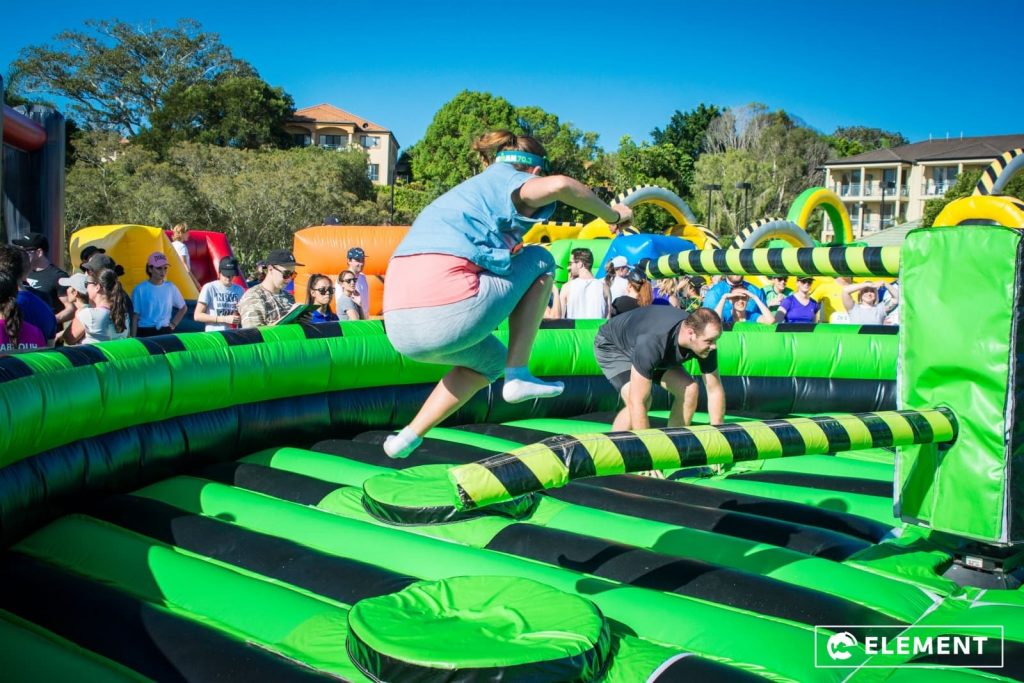 Human Foosball
Brand new to Brizzy Jumping Castles is our
8 player Human Foosball
. Foosball tables are those cute little table top games where the aim of the game is to use the control handles to move the ball into the opponent's goal with fixed players (attached to the handles). The difference here? The players are real life humans aka, you and you're "fixed" via way of bungee rope so you can only slide side to side with limited motion. Do your best to outscore your workers!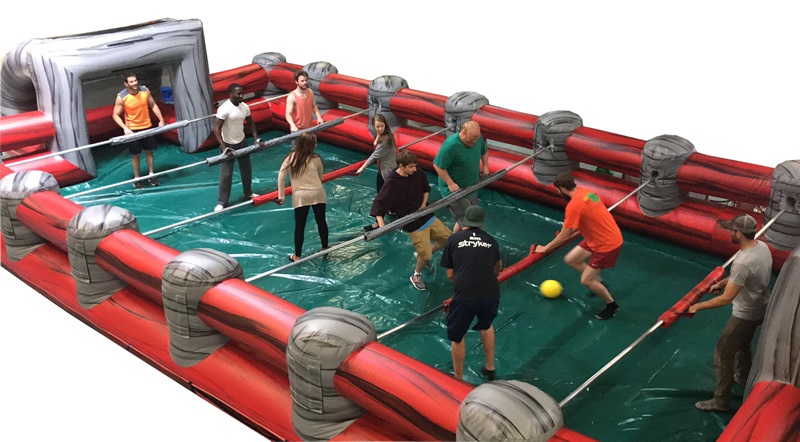 When it comes down to it, sometimes the best team building experiences are just being together as a team in a non-workplace environment and having a bit of fun. This can build deep connections and establish a good comradery amongst the team to help when things get tough in the office! These
inflatable activities
are just a few ways to add a little excitement and encourage conversation between both new and existing employees so plan a day out at a park or have us come to you!
Talk to one of our team members
for more party and team building ideas at your workplace!