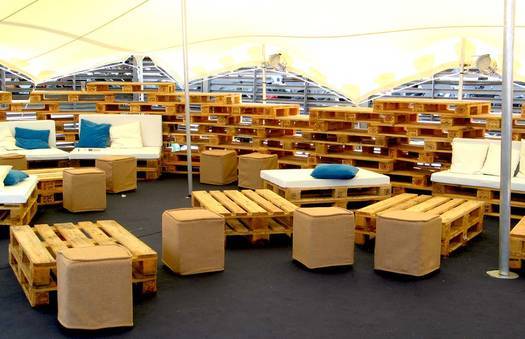 Are you looking for quirky, original and affordable furniture for a special occasion or event? If you're on the hunt for centrepieces, seating or accessories that will wow your guests and add a cool, rustic vibe, why not consider hiring some pallet furniture? Pallet furniture is suited to a host of party themes, and it could be a fantastic addition to your next gathering! Not convinced? Check out the 6 most common entertaining ideas our customers hire pallet furniture for to give you some food for thought..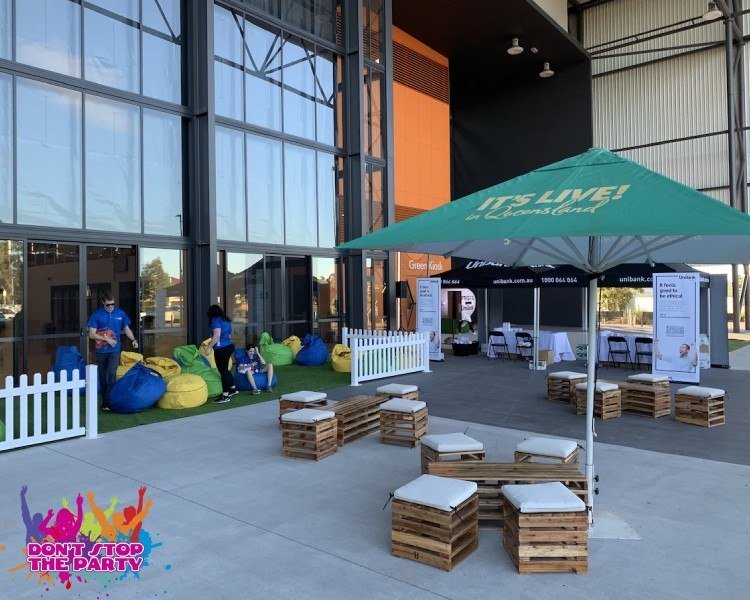 If you're organising a business event and want to impress clients & employees or create a stunning aesthetic that offers something a little different, pallet furniture is an excellent choice! Pallet furniture works brilliantly for outdoor shows, team building as well as social activities, such as hosting a day at the races or even setting out a stall at a fair or show. You can use pallet furniture to create temporary bars and seating areas, display products and showcase promotions or to create a theme that matches your brand and turns heads. Pallet furniture works brilliantly with other popular outdoor party hire items, for example, artificial grass, parasols and umbrellas and wine barrels.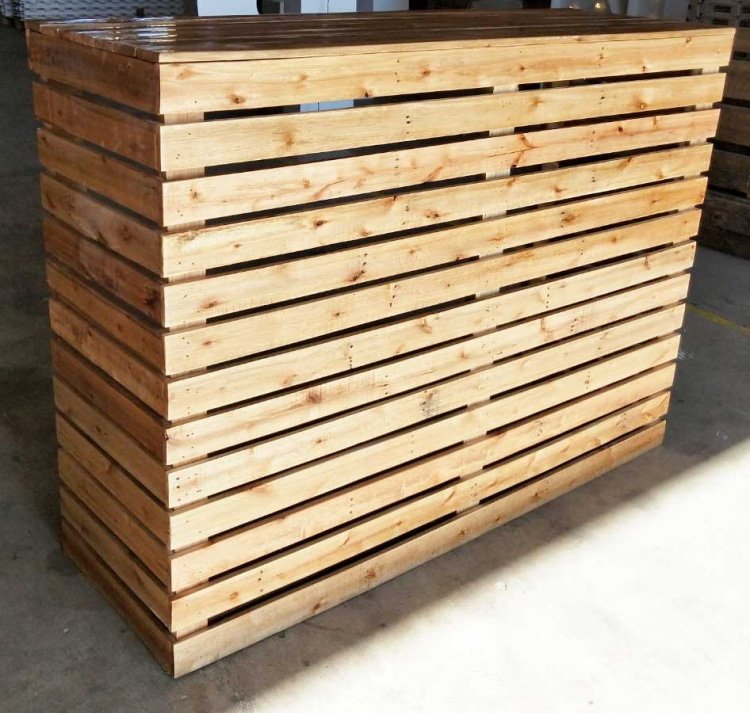 If you're looking to inject some seriously cool, rustic, laid-back vibes to your garden gathering, you cannot go wrong with pallet furniture. You can use pallet furniture to offer alternative additional seating, to hold drinks and cups or even to create your own bar for the night. Add fairy lights or festoon lights for low-key drinks or afternoon tea, or inflatables and disco lights for a funky pool party! This type of party set-up is super popular with birthdays, special events like engagements and even children's parties. Mix and match a pallet furniture range to complete the look - think bench seats with pod chairs or cocktail tables for something a little more formal!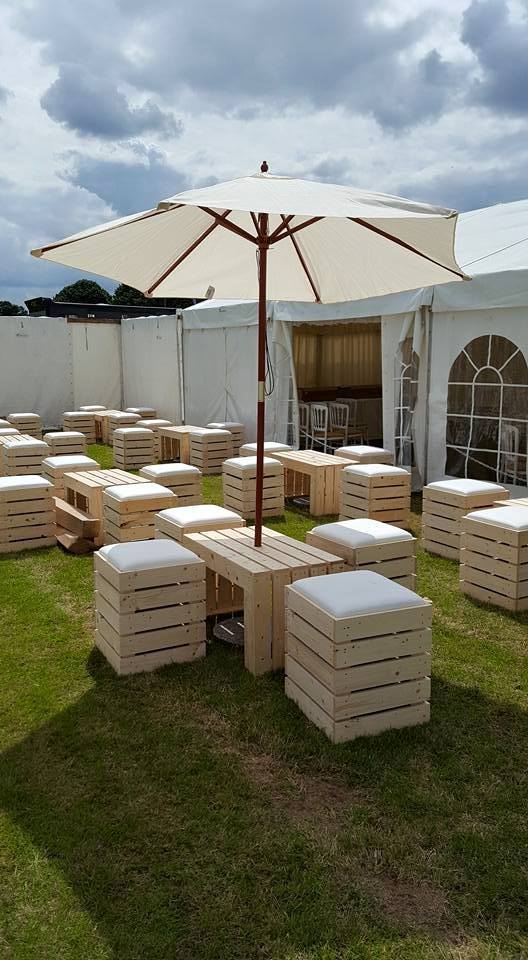 Outdoor weddings with a festival vibe and celebrations with an industrial-style edge have become incredibly popular. If you're planning an informal, al fresco gathering in a meadow, woodland or farmhouse setting, or you're looking to spruce up a warehouse for a cool, modern wedding, pallet furniture is the perfect option. You can use pallets to provide seating, to create unique tables, or to offer a comfortable base for chilling out and giving your feet a rest from the dance floor. We've seen so many brilliant layouts using pallet furniture at weddings and special occasions, your imagination really is the only limit when decorating your event! Add them inside or outside your wedding marquee, provide shade with market umbrellas on a hot day and fancy up the seating with some various cushion types! Pro Tip - we have both beige and dark cushion colours for our pod seats that look spectacular! Pallet furniture is also great when attempting to create an al fresco area if you're having an indoor wedding. If you're getting married in a hotel, a barn, or a restaurant, for example, you can set up pallet tables and benches to enable guests to get some fresh air, soak up some rays and catch up with friends away from the speakers and the classic wedding playlist. With this option, you've got the best of both worlds, and you can easily add shade with umbrellas or warmth with patio heaters to cater for all eventualities.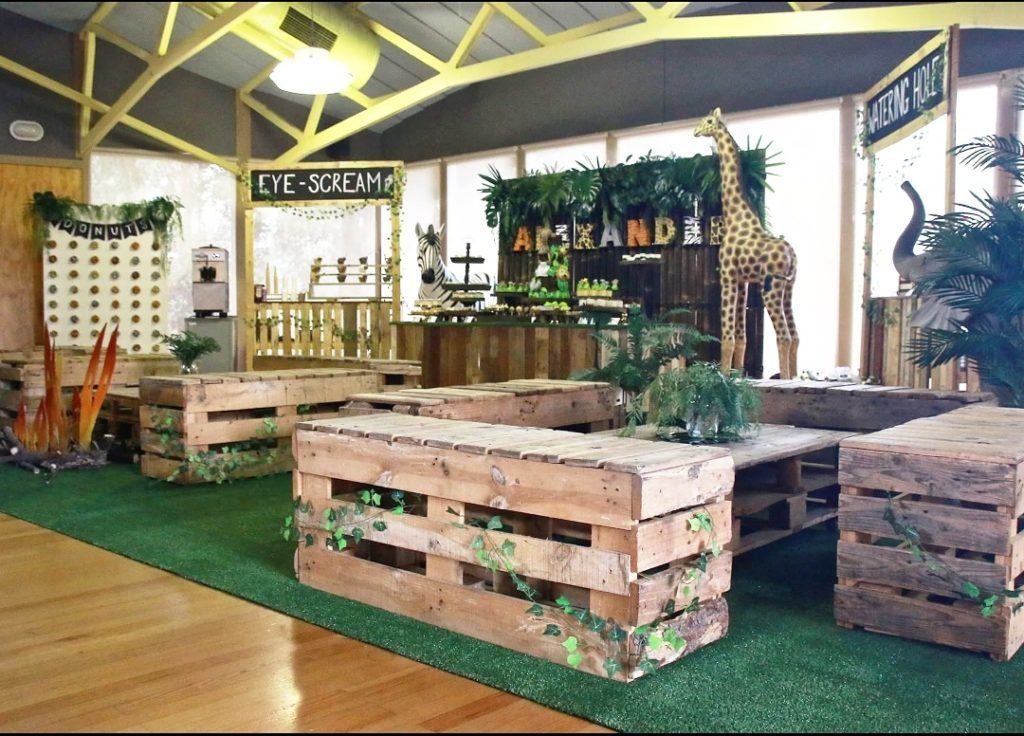 It's your birthday, and what better way to celebrate than getting your friends and family together? Whether you're hosting a party inside or outside, pallet bars are a brilliant idea. They're quirky and different, they're affordable, and they require very little effort in terms of preparation and clearing up the morning after. Pallet drinks bars, pod seats and cocktail tables are perfect for the older crowd whilst a mix and match of pallet furniture also works for children's parties!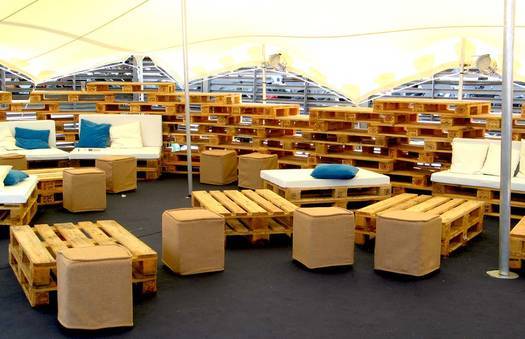 Exhibitions
If you're exhibiting your wares, you want to stand out from the crowd and encourage visitors and shoppers to look twice. It's so important to be able to capture the attention of passers-by, and to ensure that potential customers or buyers take that next step and have a closer look at what you're selling or offering. Pallets are hugely versatile, and they can be used to create striking displays that fit in with all kinds of different themes. Whether you're selling clothing, cupcakes, or handmade jewellery, you can make pallets and pallet furniture work for you.
Grazing Tables
Communal eating and sharing platters of food and small plates have become a popular feature of parties and soirees in recent years. If you're arranging a casual get together with the girls, planning a wedding or looking for an informal alternative to a sit-down dinner, it's really easy to create grazing tables using wooden pallet furniture! You can create all kinds of shapes and design a layout that means that everyone has access to the delicious delicacies on offer. Party planning is hugely exciting, especially if you've got a theme in mind. Pallet furniture is a great option that is well worth exploring if you're going for a rustic, informal vibe, or you want to add a cool, industrial, or natural edge to your gathering. So whether you're organising a wedding, a corporate event, an exhibition or an outdoor get together to celebrate your birthday, you can easily create an incredible aesthetic with pallet furniture. For help and assistance organising your next event with pallet furniture, call us today on 3177 3316 or contact us here.
A tight knit team that can effectively work together is essential to most workplaces, especially those that rely on intercommunication and team work to get the job done. This bond among the troops is something that grows with time, but there are lots of activities that can help speed it along. Here's our top 5 inflatable ideas that will not only make for a brilliant team bonding experience, but also a super fun day away from the computer!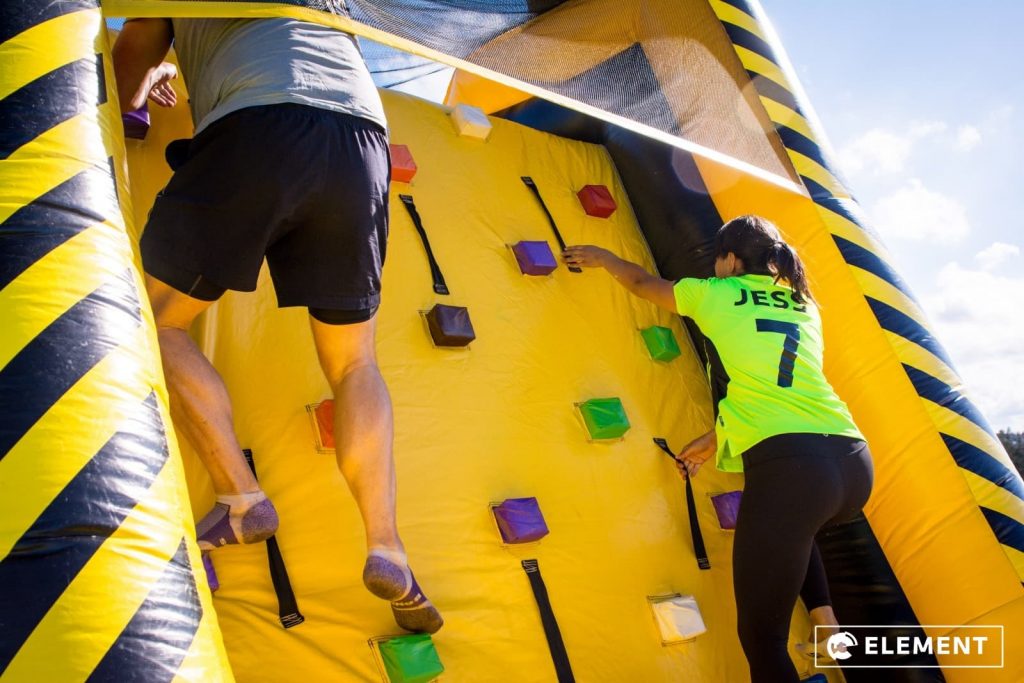 A sure-fire way to build your team's communication skills is by putting them through a series of obstacles. Our obstacle courses are the perfect setting for a race of two teams. You could make it a straight team race to grow support within the team and as a bonding exercise, or you could add some variations to make it a little more challenging. Adding a blindfold to the situation would require the other teammates to guide the racer through the course, building communication and trust within the group. Another option is to make it a relay, relying on patience and support to encourage each team member individually.