Fetes are a charming way to celebrate community, spread awareness, and raise funds for good causes. They are also a whole lot of fun when done right! The tricky part is knowing where to start. You know how many people are expected and have ideas on how to raise money, but the planning of the actual event can be overwhelming, to say the least. Fear not, that's where we come in! Having contributed to quite a few fetes ourselves, we know a bit about how to get them going and all the must-haves that will make your event a hit. Here is your 'How To' guide for creating a brilliant fete.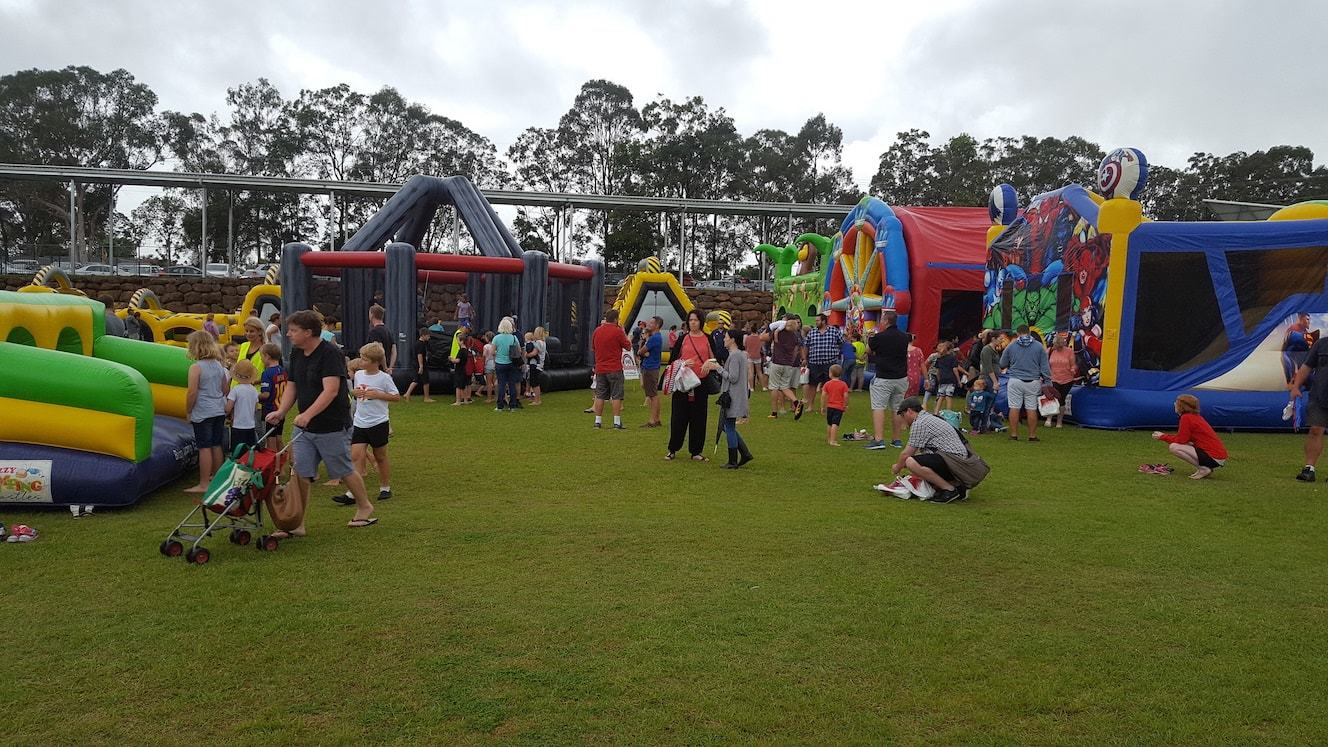 Selecting the fete venue
First up is the venue. If your fete is for a school or something similar with a large area perfect for a school fair, then the choice is obvious. In most instances, that means the school oval. For some events though, a location isn't so readily available and other plans must be made.
We recommend that you have a look at your community's neighbourhood. The most important thing about fetes is to keep it local, nobody will be driving out to woop-woop on a whim. You want to make the spot convenient for your community, as well as potential passers-by. A good idea is to inquire about local parks or schools that are large enough to accommodate however many people you are planning to attract.
Council parks usually require an application for a permit. Be sure to contact your local council and submit your application in time as these may drag out! If you're considering hiring inflatables for your fete, power is usually the single most crucial factor to be aware of. Naturally though, we're able to assist even when power isn't readily available at your location (power should be available within 25 metres for all activities). From 2 outlets, to 20 outlets, our experience over many years of hosting large inflatable events means we've got you covered.
Food for your fete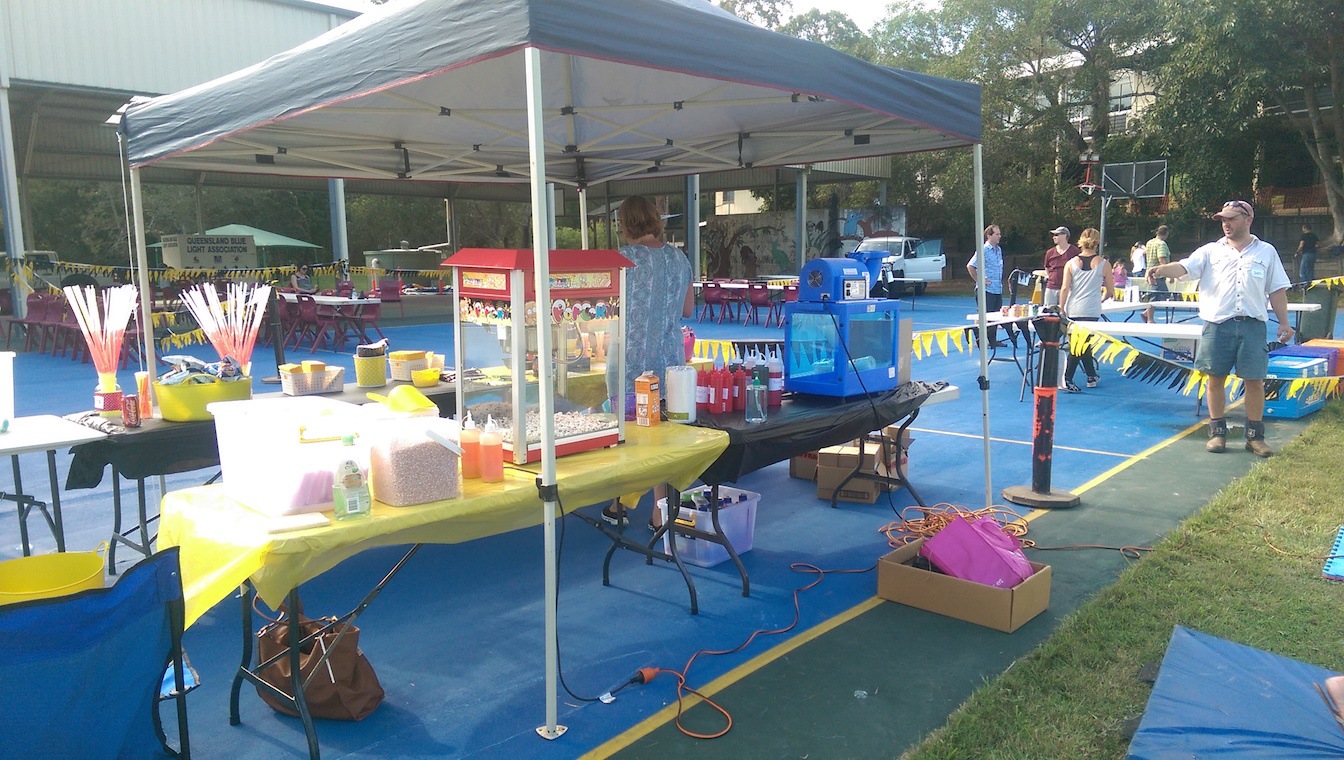 By far one of the most important things to consider is food. A fete is quite simply not a fete without plenty of food to go around. If your budget allows it, we recommend having a browse of Brisbane's food trucks. They are a great way to supply food to the masses without having to organise any equipment or manpower.
For a simpler, more traditional route, volunteer stalls are a fantastic way to get the community or school parents more involved with the fete. We hire out a range of fun food machines that are absolutely perfect for a fete. The classic fete fair can be achieved with our Fairy Floss Machines​ and Snow Cone Machines, guaranteed to bring a smile to anyone with a sweet tooth. We also hire out Popcorn Machines, which we recommend pairing with our Slushie Machines to match the salty with the perfect amount of sweet. To add some substance, hire our Hot Dog machine to keep everyone full.
Rides and entertainment for your school fete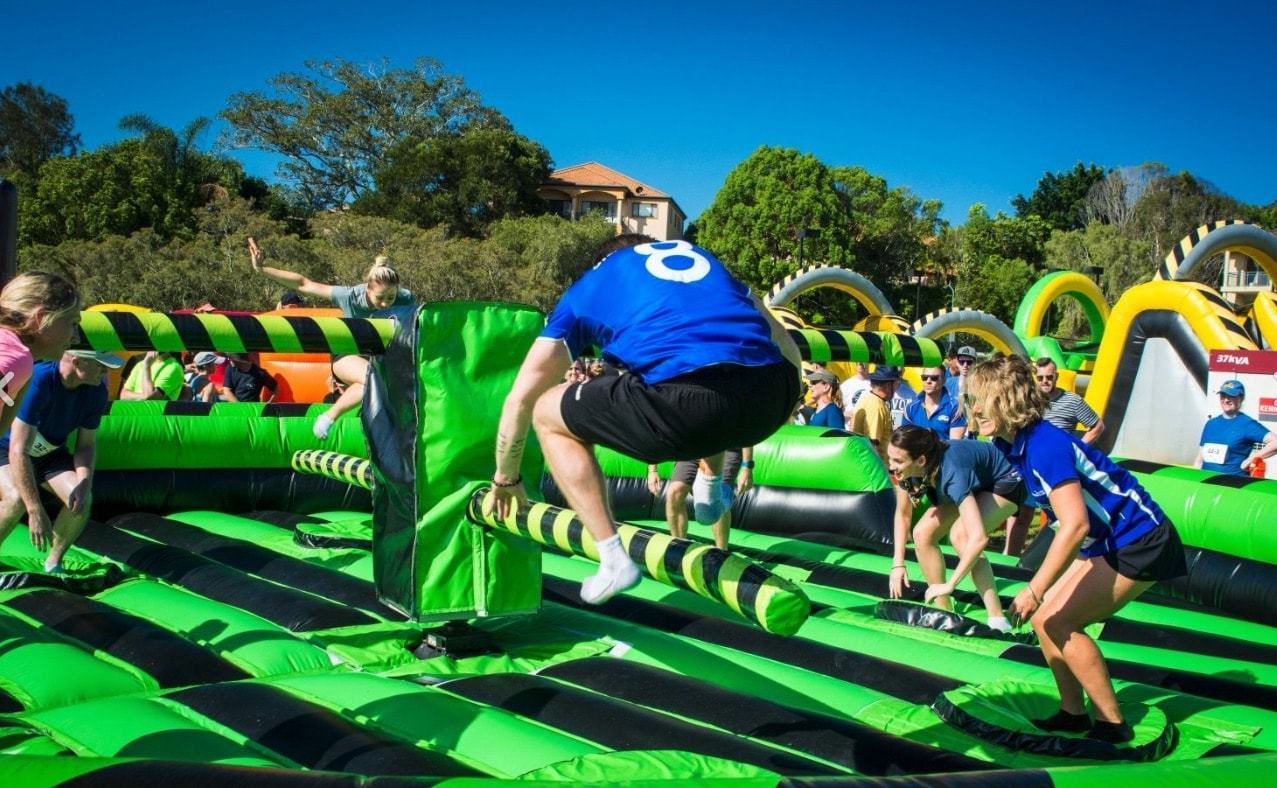 Now we can get onto the fun stuff – rides and entertainment! While rides such as 'The Vomitron' sound appealing to kids, I think the parents of said children would be grateful if you went for something a little less intense but with just as much fun!
Here at Brizzy Jumping Castles we, of course, rent out a whole range of different Jumping Castles for you to choose from. This is a great option for a fete because, as well as injecting some much-needed fun, a bounce house will have the kids (and even adults) doing something active and energetic. Getting moving is not just a great thing for everyone to do overall, but it also is the perfect way to expend all that extra energy they are likely to have after the obligatory sugary treats that come with fetes. If you want to go one step further, we have a couple of games and rides that are perfect for attracting a crowd.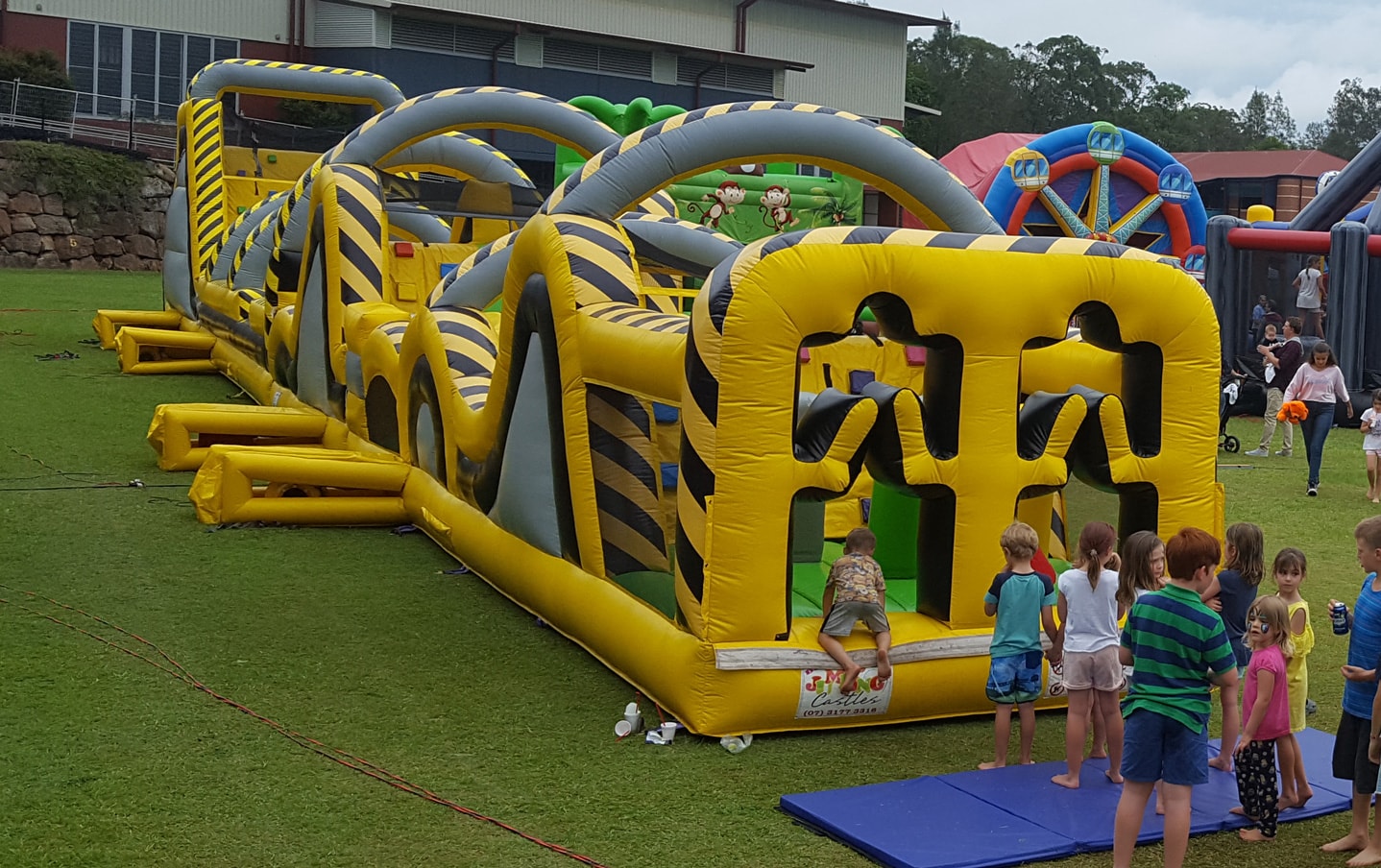 Our inflatable obstacle courses are always a hit at big events and perfect as a high turnover activity which is what you're looking for with large crowds! These are a massive statement piece, big in size, bright in colour and spanning up to 30 metres long!
The premise is super simple, get through the obstacle course as fast as you can. With two lanes, people can compete alongside their friends to add an extra level of excitement, and as our obstacle courses are suitable for both kids and adults, everyone can join in the fun. Race your teachers or parents!
A great idea to further involve the community and raise funds is to have a charity race where two teams relay it through the course, aiming to emerge victoriously. People at the fete can sponsor different teams, or it can be purely for fun. A central event like this gives weight to the entire day, having a focal moment for people to wait for and draw them in, giving you a chance to say thanks and spread your message.
Another popular jumping castle for both kids and adults is the Hungry Hippos Inflatable Game. If you have ever played the original, just imagine it way bigger and inflatable. Oh, and you are the hippo! This is another one that inspires some healthy competition! Open to kids 10 and over, all players will be strapped to a bungee cord, fighting against it to collect as many balls as they can from the centre. Hungry Hippos is the perfect fete addition as it lets groups of friends compete against one another and has a set timer for each round, great for an event with such a high turnover! Check out the video below:
Have some space to fill? Another showstopper we have is Bubble Soccer. Choose to play inside an inflatable soccer field or let the kids roam free with a marked playing field and portable goals, Bubble Soccer is pretty much exactly what it sounds like. You play soccer, in a bubble (also known as a zorb ball). Our package comes with 12 zorb balls for two teams of 6 to wear and go head to head in the inflatable game of the century. Seriously, if you think soccer is easy, try it in an inflatable bubble (it also makes it way more fun!).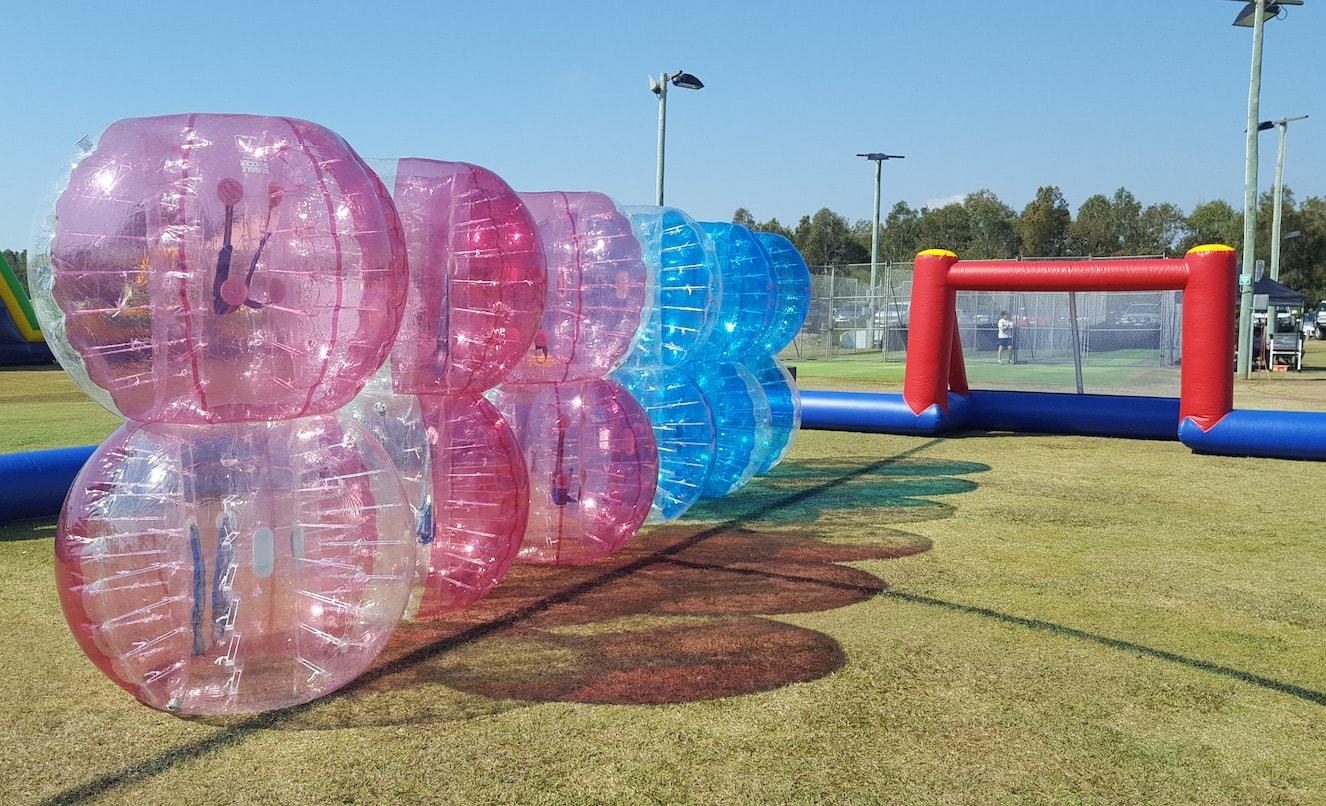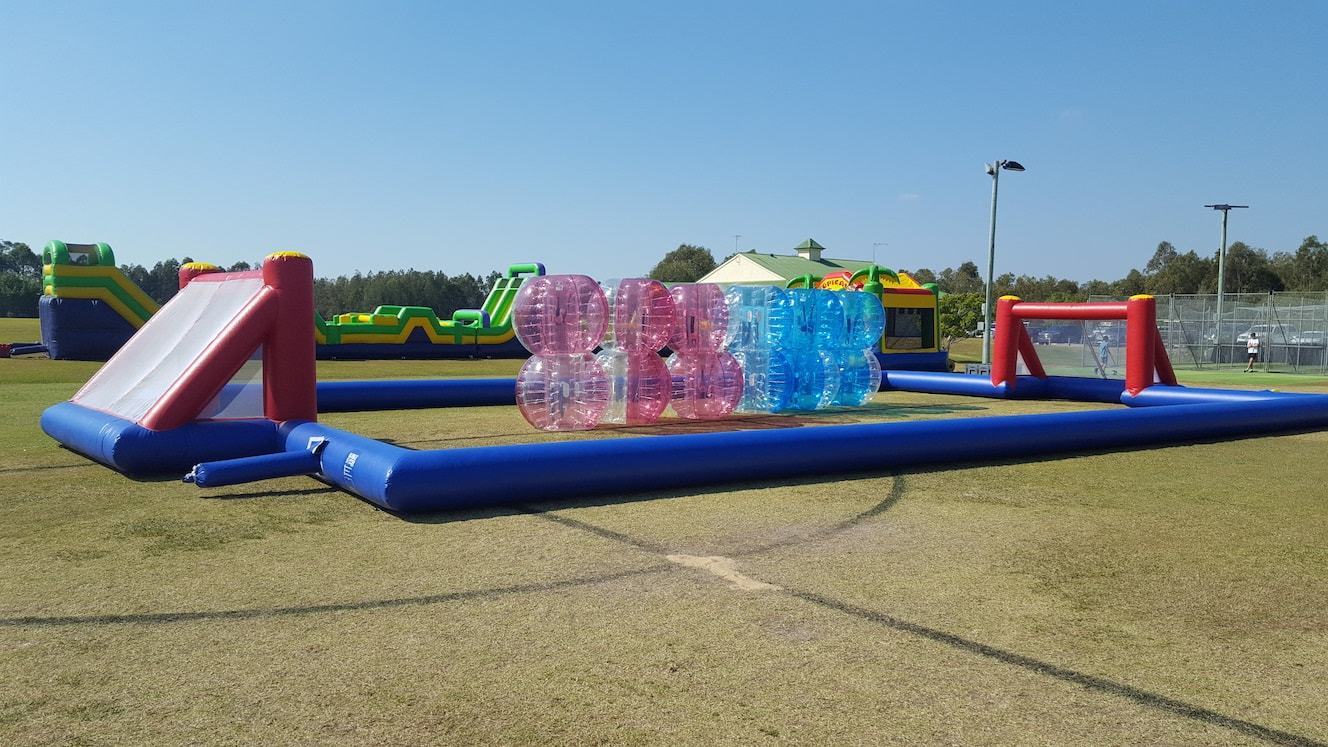 We, of course, couldn't do a 'How To' guide on fetes without including the fete staple, slides!
Slides are basically a fair necessity, they are perfect for younger kids to have a bit of fun too and are open to basically all ages.
We have wet and dry inflatable slides that have some great features, from a gigantic 5-metre-high drop to a themed pirate slide.
For summer we also have a collection of inflatable water slides perfect for keeping people cool with the water adding an extra level of fun.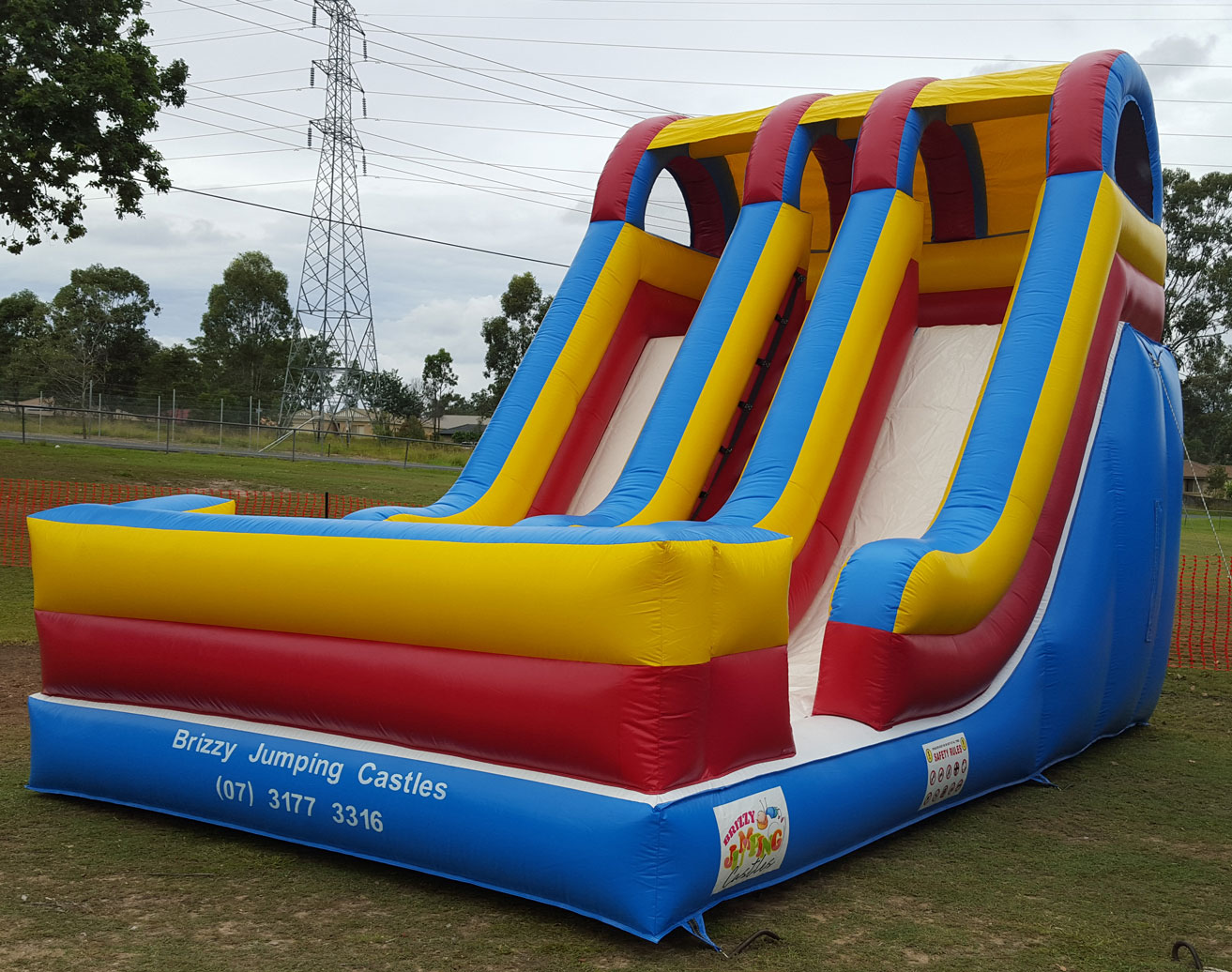 The last and probably most important aspect you need to consider when planning anything from a school fair to an awareness building fete is the community surrounding it. What makes a fete great is the people that build it, run it, and come to it. Marketing your event is, of course, extremely important. Flyers in local hotspots, Facebook events, and email drives are a great place to start in spreading the news, but what is more important is involving the community in the planning and creation of the fete.
Ask around at local businesses to see if any would like to run their own stall, it is a great opportunity for them to advertise their business, as well as add more attractions to your event. If it is a school fete, enlist some of the local parents to run their own stalls. Simple games like lucky draw fishing and throw the ring on the bottle are an awesome addition to any fair, and who could pass up home-made sweets and treats when they are for a good cause?
There are of course a million things to think about when planning such a huge event, but hopefully, this has given you an idea of where to start. If you have more questions about how to make your fete the best yet, give us a call or email and we will be happy to pass on our experiences and recommendations!
NEED A HAND MAKING YOUR FETE GREAT?
Talk to us today about the types of inflatable games, rides and activities that would suit your school. We have over 5 years and 5000+ events experience in all types of events both small and large.